Betting on the Buick: The Nailhead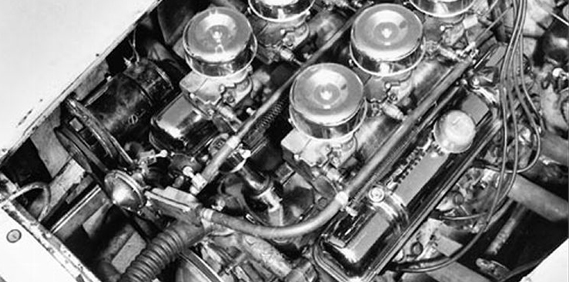 There are a handful of iconic early 50s era OHV V-8s from Detroit: Of course we have the stout and powerful family of MoPar Hemi motors from DeSoto's 241 Red Ram up through Chrysler's 331 Fire Power dual-quad V-8. There is also GM's smooth-running Cadillac 331 and his cousin the Olds 303, both introduced in 1949, the predecessors to the legendary 265/283 Chevy small block. The other exciting V-8 of those early years was Buick's own internally-designed motor, the 322 c.i. "Nailhead" introduced in 1953 to replace the long-running 'valve in head' Straight Eight. The unusual motor name came from its very small valves which sat perfectly vertical, and were blamed for the engines restrictive breathability. However, Buick designed the engine's camshaft with a high lift and longer duration to help offset these little nail valves and the arguably restrictive intake and exhaust ports. The result was a motor with gobs of torque, often greater than one foot-pound per cubic inch, which was remarkable at that time, and thus the engine was perfect for hot rodding!
By the mid 1950s, Nailhead speed parts began to show up everywhere, like multi-carb intakes from Weiand and Offenhauser, bellhousing adapaters from Hurst (to help ditch the lousy torque tube set up), and Hedman headers for much needed exhaust flow. The dawn of the small block Chevy did indeed lessen the Buick speed crowd, but the Nailhead still had a tough forged crank and rods that could take repeated drag runs that would have blown any stock SBC to bits… Just ask TV Tommy Ivo or Tony Nancy what that motor could do. Finally, it's compact, narrow size made it the ideal power plant for smaller roadsters, like the T and A builders, thus keeping it a popular motor swap well into the 1960s. Looking at the number of killer Nailhead coupes and roadsters currently on the HAMB is evidence enough that hot rodders still bet on the Buick for what they need in a motor.
(Correction: Dodge made the 241 Red Ram. DeSoto's first Hemi motor was the 276 c.i. FireDome! Thanks to all the MoPar guys who caught that…)
52

Comments on the H.A.M.B.