Hot Rod Communication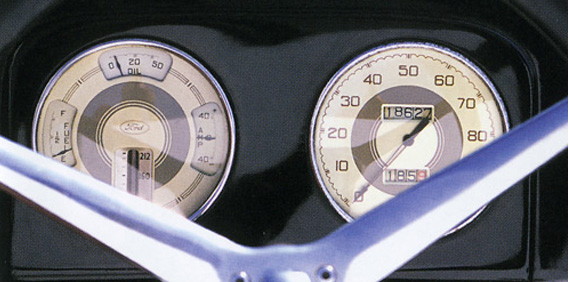 I'm obsessive about a lot of things in life and hot rods. Second to none is my absolute fascination with gauges and dashes and everything else you stare at while driving a hot rod. I've collected old gauges for years as an outlet of sorts and have always considered gauge selection as one of the most important details in the construction of a hot rod. I guess a big reason for that is that these fine little instruments represent the only visual connection between driver and performance. One glance and you know your speed, your water temp, your oil pressure, etc… It's like a hand shake between man and machine. Visually.
Then there is the other type of communication between the two – the visceral type. Of course, visceral communication comes in all kinds of types and ways. As you accelerate, the pressure that pins you to the seat communicates performance and as you hammer the brakes, the pressure on the pedal tells you a lot too. Then there are the smells… the sounds…
Still, the most visceral and maybe the most direct connection between man and hot rod happens through the hands. Think in those terms and it won't be long until you declare the steering wheel the most important part of the hot rod interior. So much happens there… So much is communicated…  It's both visual and visceral. It really is a direct link between you and your cars performance.
So, choosing a steering wheel is a pretty damned big deal and one that should take quite a bit of thinking. Historically, the wheel of choice has been the '40 Ford apparatus. Take one look at the Niekamp roadster and it's easy to why that's the case:
Myself… Well, I've always been a Bell 4-spoke kind of guy. I love the racing heritage, the look, and the feel of the hard rubber wheel in my hands. Sometimes when I'm driving my coupe and I'm hitting an apex harder than I should, I find my self fighting that old wheel and feeling like some fearless pilot of an early opened wheeled racer. It's glorious and just for me.
Even so, I've always been absolutely taken by Frank Mack's choice of early 'T' wheel in his old roadster. A tasteful plating of the spokes with a leather trimmed wheel results in a beautifully simple steering wheel. It's an idea that I've always wanted to liberate from history, but have yet to have the chance.
And I guess these three examples represent my favorite in the genre. But I'm interested in seeing yours. Post pictures of your favorite hot rod steering wheels… Show us what you communicate with.
………..
61

Comments on the H.A.M.B.