A Gearhead's Guide to Cars Land…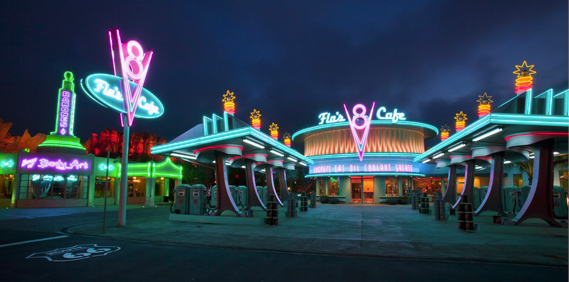 Wednesday night was a very big night for me- After over 5 years of personal involvement from the initial planning to final details, we had our Grand Opening ceremony for Cars Land at Disney California Adventure Park. I was very honored to be part of it's creation working closely with the Imagineering team, and the authenticity and detail in the Land will blow you away. I thought I'd share five cool car factoids to check out if you come visit Cars Land someday (hopefully soon!):
1. Real vintage car parts. We traveled to Hershey, Penn. for the AACA swap meet for a few years in a row, buying everything from antique road signs, to glass oil bottles, to Klaxton horns, vintage head and taillights. We used these original items throughout all the ride cues and in Lizzie's Curios Shop. It was a blast loading up our little red wagon, picking up all these rare bits to help give Cars Land a more authentic and 'old timey' feel.
2. Flo's V-8 Cafe. Check out the neon spark plugs on the roof at night. Notice the main building is an air cleaner and the awnings are actually heads with plugs mounted in them. They 'fire' in the sequence of a Ford Flathead V-8: 1-5-4-8-6-3-7-2. Just like in the movie.
3. Head into Doc Hudson's Medical Clinic. There is an x-ray of a small block Chevy motor on the wall. That's supposed to be Ramone's engine after a check up! Lots of other cool parts on display as well. Also look at the 50s racing programs with Doc on the cover- Really well done.
4. Enjoy the pinstriping in Ramone's House of Body Art. Chip Foose and his team hand-striped and custom painted everything from cabinets, tool boxes, and display items in both the shop and the Radiator Springs Racers ride to give it that extra touch of Ramone realism.
5. Engine sounds. Speaking of Radiator Springs Racers, when you climb into your ride vehicle, listen for a moment to running engine of the car. It idles, revs and goes through the gears as you move along. There are male and female ride vehicles, and each have their own motor sounds.  Cool, huh?
There are SO many more details that any car (and CARS) fan will discover when they come. I don't want to give it all away, so come see for yourself. The accuracy and richness is nothing short of mind-blowing, and if you have young kids, they will have a blast as well, guaranteed. Welcome to Radiator Springs!
81

Comments on the H.A.M.B.