Sydney Allard's Dragster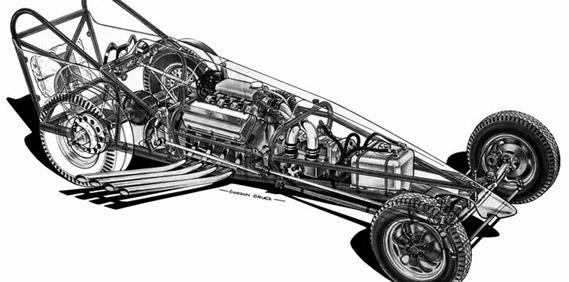 Sydney Allard did more than just build sports cars; he is often referred to as the father of British drag racing.  In 1960 Allard decided to build Britain's (and actually all of Europe's) first true dragster.  He commissioned his team to design the front engine rail job in the fall of that year, and placed an order with the Moon Equipment Company for a GMC 671 blower and a Hilborn fuel injection unit.  At the same time he started to build a 354 c.i. Chrysler Hemi V8 engine.  The Royal Auto Club's sprint car regulations of 1960 (there were no drag racing regulations in the UK at that time) required the engine to be covered and so a front-mounted blower set up was chosen to enable a sleek nose to be formed, improving aerodynamics and meeting the regulation.
After demonstrations to the UK press in 1961, and a period of mechanical issues being worked out, Sydney worked tirelessly to promote drag racing in Britain. He organized a series of demonstration runs in 1963, inviting Americans Dante Duce (driving Dean Moon's Mooneyes car) and Mickey Thompson (piloting the Harvey Aluminum Special dragster) to come cross the pond. Then in 1964 Sydney Allard founded the British Drag Racing Association and served as its President, promoting the First International Drag Festival featuring an American team which included the best of the best drag racers at that time: Don Garlits, Tommy Ivo, Tony Nancy and Dante Duce. He did the same event the next year and a second Allard-Chrysler dragster was constructed for the 1965 Drag Festival. Sadly, Sydney Allard died of cancer in April, 1966, and only a few days after an office fire destroyed much of the firm's archives.
The whole story of this car is here.
21

Comments on the H.A.M.B.