415HP Blown Corvette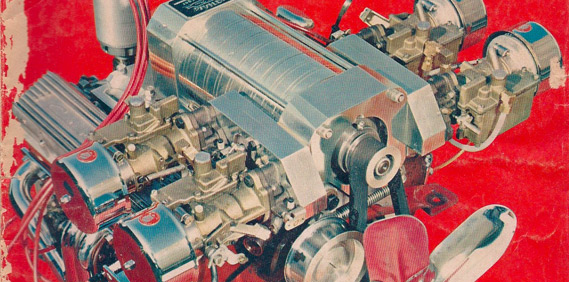 In 1962, Ernie Landel was a 20 year old working at his father's container manufacturing plant. His family pretty much covered his daily expenses, so every dime he made went into one quest – going fast. That quest started with a 1957 Corvette. The little sports car was pretty hot in stock form, but like a lot of us, Ernie couldn't leave anything well enough alone. He wanted more horsepower.
To start, the young hipster got himself a Latham blower capable of about 8.5 pounds of boost. To support all of that extra air, the bottom end was stroked 1/8″ and bored 1/8″ to 327 cubic inches. Add a Chet Herbert 270 roller cam, some reworked heads, and a total of four Carter side draft carbs and you end up with around 415 horsepower – a number that was out-of-this-world in 1962 for a mild mannered street car.
Somewhere down the line, the Motor Trend people heard of the little Corvette and decided some testing was in order. They installed a third-wheel timer and headed for the nearest airstrip. Off the line, the cheater slicks hopped like a tweaker bunny rabbit so they threw a bag of cement in the trunk and added a passenger for good measure. By the end of the session, they were running 13.4 second quarters at just over 106 mph.
Still not satisfied with the testing, Motor Trend then let the young man loose on Riverside Raceway. Ernie had never driven on a road track, but had a ball learning his way through the corners. He quickly figured that a car set up for drag racing wasn't much on a road course, but everyone was pretty tickled to see the little Vette hitting speeds of up to 130 mph on the long Riverside straight… And that's with 4.11 gears.
In any case, I fell in love with this little car and figured you guys would enjoy it as well. Check it out:
………………
30

Comments on the H.A.M.B.