Chuck Jordan's 5 Greatest Hits…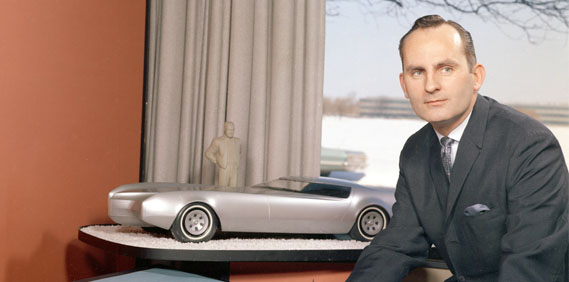 Many of you may already know that the last of the great GM Styling Chiefs, Chuck Jordan, passed away back in December. I thought it was worth raising a glass to five of the finest General Motors (pre 70s) auto designs under his watch. These are just my opinion, so add a few of your own favorite Jordan-era cars if you like.
First on my list would be the 1955 Chevrolet Cameo concept- A truck that proved pick ups could be as stunning as a well-designed passenger car. The fiberglass fleetside fenders were radical at the time and gave the Cameo it's clean, flowing look.
Not much later, Bill Mitchell told Jordan, "If you ever want to amount to anything around here, you better start designing cars.", and he moved over concept car designs shortly there after. The 1955 Chevrolet Biscayne is an often-forgotten Motorama hardtop sedan that Jordan was able to help Harley Earl design. Many of design cues ended up on GM cars over the next 5 years.
The 1956 Buick Centurion was a four passenger, all fiberglass dream car with a clear bubble top roof (Did it inspire Roth?). Recessed headlights, batwing fenders and aircraft styled controls were all years ahead of their time. This Motorama icon is still considered one of the all time great concept designs to come out of GM. Jordan's next move was way up to head of Cadillac Design in 1957, at a mere 30 years old.
The next vehicle on my list is the often considered the pinnacle of late 50s American design excess- The 1959 Cadillac Eldorado. Yes, the fins were massive, and the chrome was audacious, but these Caddys look down right wicked when you pull a little trim off and drop one on the ground. Truth be told, the '59 was really under Harley Earl's design influence, and the first Cadillac designs completely under Jordan's watch were the 1961 / 1962 Cadillac models. These cars are number 5 on the list, since these beauties are really my favorite styled, and in my opinion, cleanest of all Cadillac designs. They were crisp, proportionally compact, and very modern in their rounded greenhouse and angular bodylines, setting Cadillac back on the road to leader in forward-thinking luxury.
God Speed, Charles M. Jordan. And thanks for the great cars…
1. 1955 Chevrolet Cameo Truck
2. 1955 Chevrolet Biscayne
3. 1956 Buick Centurion
4. 1959 Cadillac
5. 1961 and 1962 Cadillac
20

Comments on the H.A.M.B.