1931 Miller Offy V-16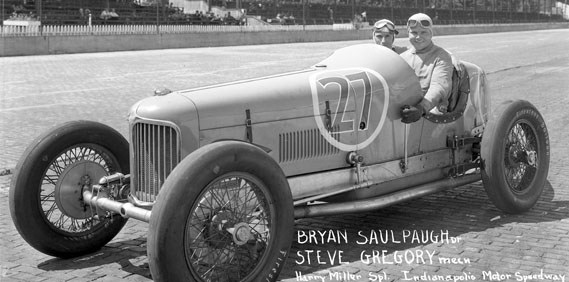 Most of you may already know how much Harry Miller was a genius, but this car is one of his most unique technical high points. Harry took his personal street running V16 engine, re-tuned it, and put it in a Miller designed Cord chassis, creating the pinnacle of Miller racers. His goal was simply to beat his old racing rival Duesenberg and their 265 bhp Model J.
The engine was built from four sets of four cylinders. Basically it was two 45 degree Miller Straight 8s on a common crankcase. Each cylinder row had twin overhead camshafts and two valves per cylinder with carburetors were mounted between the camshafts. Miller used 8 two barrel carbs of his own design. When the drivetrain left his street car and was set up for racing, he tweaked the 5 liter motor to produce 300 bhp. It was mated a three-speed gearbox that drove the rear wheels, since there was no room for front wheel drive. It featured a DeDion rear-axle, used for the first time on an American racing car.
This V16 was raced at Indy in 1931 by Shorty Cantlon with mixed results. The car was powerful, and worked it was up to 3rd place from the back of the pack (26th), but it fouled plugs, resulting in a sixteen plug change pit stop! He worked his way back up the leader board till a connecting rod gave out. The car returned in 1932 driven by Brian Saulpaugh (it's his gray paint scheme in these pictures). The V16 had a much better qualifying run this year, placing it on the outside of the front row. Saulpaugh struggled in the race and dropped from third to sixth place before an oil line broke and ended the race prematurely. This was the last showing at Indy for the amazing Miller V16 in it's original guise.
Later it raced with a Miller 4 and a Maserati engine. The chassis, and even bodies were also switched out (which was common) for races at Indy for the 1933 through 1937 seasons, and other smaller races in as well. Sadly, the glory days were gone for this car and it never was as great as the technical marvel Miller built it to be. The fully restored, and very original 1932 version you see of it here was sold by RM auctions in August of 2009.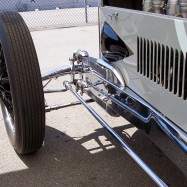 ………….
49

Comments on the H.A.M.B.