Gary Howard
Editor's Note: This article originally ran on August 8th, 2007. However, I have to wake up early tomorrow morning to investigate an honest-to-goodness barn find (more on that later) and won't have time to publish anything original before I leave. So, I thought I would bump this old feature to the top as it will become relevant (not to the barn find, but to something else) later this month.
Confusing, right? Just read about Gary… You'll be glad ya did.
***
Finding Gary Howard's joint is no easy feat. I had been there once before, but still found myself squinting at street signs and making multiple u-turns. However, once you do find the right country road just north of Austin and pull up the dirt driveway, there is no mistaking your whereabouts. Gary's house and shop are surrounded by future projects – a chopped shoebox body here, a '49 Merc body there, etc… Under a huge Texas sky, the view is nothing less than remarkable. Still, it was the last thing on my mind.
See, most guys rattle off names like Barris or Roth or Ayala when it comes down to crowning their favorite customizer. For me, it will always be Gary Howard. There is just something about his aesthetic and his sense of timing that lights my imagination. As such, the opportunity to hang out with one of my heroes in his environment had me a little less car focused than I normally am. Flat out, I was nervous.
Of course, I always look back at those moments and think of myself as an anxiety whore. And I sure do this time… The more I get to know Gary, the more I realize we have more than a few things in common. First and maybe most obvious, Gary isn't a self promoter. Don't get me wrong – he works for respect, but he does it his way and for his own reasons. A perfect example is the reaction I got when I asked Gary for an interview.
"Yeah, I'm not much for answers but I'll try to put words together as best I can…"
I knew immediately that a traditional interview format wasn't going to work for this article. Instead, Gary and I just hung out. I asked questions, he answered them. In the end, it worked out wonderfully and I don't think I have ever felt more comfortable getting to know someone that I respect so damn much. Enough.
Gary grew up on a farm near a small tiny town in Iowa. It's the shit you read about in old books – one room school house, one teacher for all classes, walking up-hill both ways, etc… Humble beginnings for a deeply passionate car guy whose life really started when he got his first set of wheels – a 1930 Chevrolet 4-door sedan.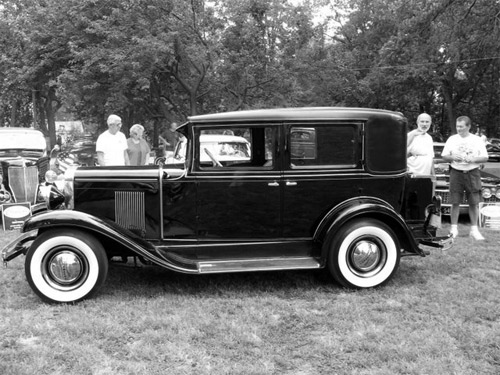 Caption: Gary's first set of wheels. Recently, his family found the old car and surprised him with it at the KKOA Spectacular.
It wasn't long before Gary countered the 4-door with a '49 Ford. It would become his first custom in a long line of cars that Gary calls his training foundation. He'd take notes after each one and compare his results with those from the magazines. He followed the same legends as everyone else – the Barris Brothers, the Alexander Brothers, Winfield, etc… Still, Gary is not and was not ever that moved by big names or big customs. He looked up to the cars and the little things that made them what they were. To this day he is inspired by an unknown '49 Chevy he once saw in a magazine.
"It was black or maybe dark blue… and so straight and smooth. I have no idea who built it, but I still think about that car every time I get ready to shoot paint. I've been looking in the little books for a while trying to find it again. It really drives me."
Not satisfied with the mystery Chevy, I kept pushing.
"A little later on I found the Cliff Inman '57 Chrysler that Joe Wilhelm built. That car is probably as close to a 'perfect' custom as I've ever seen. I just admired Joe so much for keeping the car so simple and beautiful. Sure, he did some weird stuff later on but as a whole his portfolio is inspiring. And he did everything on his own terms in a little shop behind his house – never succumbing to the financial forces that a lot of other guys did."

Caption: The Cliff Inman '57 Chrysler was one of Joe Wilhelm's best. Dig on the graceful sweep between the headlights and the tips of the fins. Smart.
After praising Wilhelm and describing the passion filled conversation the two had, Gary finally broke down with one of my favorite quotes. Ever.
"Hell, I guess I just said it. I look up to Joe Wilhelm."
Anyone that knows Gary's work knows that he is traditionally grounded. I've always felt that many traditionalists get their mind set due to a strong sense of family. Gary certainly fits the mold. The man absolutely gushes about the lessons learned from his late father and uncle. Both were craftsman and both understood the importance of detail. Gary literally drives himself crazy trying to live up to those expectations.
His first real attempt was a '52 Ford that you most likely have seen at one point or another. He started with a picture in his head, began collecting parts, found the right car, and then went at it. By the time he was done he ended up with what many consider one of the most elegant '52 Fords ever built. Gary sold the car, but thanks to his brother and his pal Steve Wertheimer (really, who doesn't love Steve?) he now has the car back… and it's a lifer for sure.

Caption: Gary's '52 patiently waits for its master's paint gun.
From that car, it seems like Gary's career just kind of took off. A relationship brewed with Jimmie Vaughan that lasts to this day and it has resulted in some of the most remarkable modern-era customs ever built. In the world of customs, images of form are always better than words:

Caption: How many people started looking for '61 Cads after Jimmie's debuted?

Caption: Jimmie's Riviera represents my favorite example of one of my favorite body styles of all time.

Caption: My favorite Gary Howard custom to date.

Caption: The first car built for Jimmie and the one that made me a life-long fan of Gary's.
An impressive portfolio even in its very condensed form above. As a long-time follower of Gary's work, there was one question that I had to ask in interview form and I'll be damned if I wasn't going to get an answer out of him.
TJJ: Looking back at all the cars you have built, is there one or two that mean more than the others to you? Meaning, if you had a two-car garage which two cars would you park in it?
Gary Howard: I don't know if I could put two cars in that garage yet. The one car that I would put in there for sure would be Mike Young's '60 Impala. It's simply obnoxious which is everything I don't like in a car, but it all works so well. That's the one car I would own if possible and I'm not all together sure why. I'm a Ford guy and I actually like cars from the 40's and 50's the most, so I'm not sure I understand my feelings for the '60.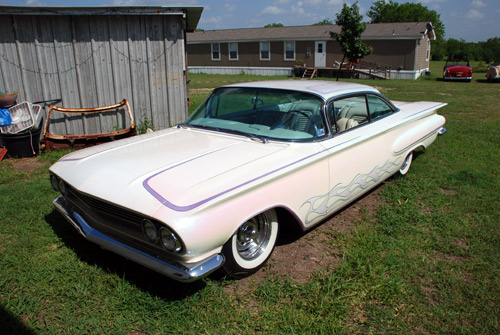 Caption: Mike Young's Chevy still looks Gary Howard fresh after all these years.
I don't think I could make a choice for the second car yet. It seems like every new one is my favorite. I'm really fond of Jimmie's '54, I love Steve's Cad… I just think that would have to be a revolving door for right now.

Caption: Steve's Cad is elegantly simple. How can such a huge car feel so subtle?
TJJ: For the record, I chose Jimmie's '54 and… Wait, I can't talk about that car just yet.
So it has been one hell of a ride for Gary Howard. And it's a ride that recently got the cherry dropped right on top. A couple of weekends ago Gary was elected into the KKOA Hall of Fame. He's won the Harry Bradley award twice and that's a big damn deal, but this was something different. The Bradley award was about a specific car. The Hall of Fame election was about Gary's peers appreciating his work. Just as satisfying for Gary though was the reaction his pals had after hearing the news. They were ecstatic. And his family that we talked about earlier? His brother capped the weekend by surprising him with his first car – that ole '30 Chevy four door from Iowa.

Caption: A bunch of Gary's buddies got together a few weeks ago in an effort to get as many of his cars to the KKOA show as possible. The lone hot rod in the shot sticks out like a freshly bitten lip. I'm sure you'll see more images from this shoot in The Rodder's Journal.
And there you have it… A one question interview with one of my heroes. But there is one left to be asked – What's next? The answer could very well be Gary's best yet and it could possibly be the second car in his two-car garage. The images below is all we will have until Gary finishes the details.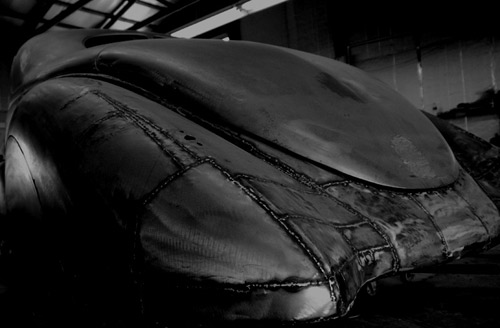 69

Comments on the H.A.M.B.