Charlie Wiggins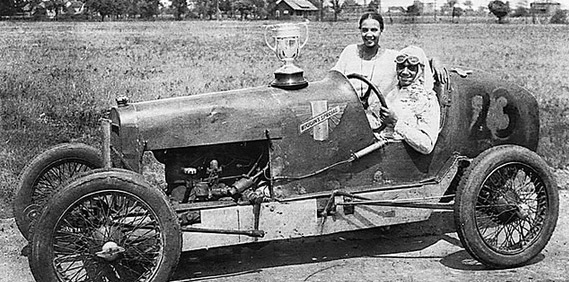 In the early 1920's, Charlie Wiggins was a black shoeshine boy in Evansville, Indiana. Life wasn't easy. The state of Indiana was controlled by the Ku Klux Klan. In fact, every elected official was a member of the klan and segregation was considered untouchable by any sensible citizen. Work had already began on a small city located on the Ohio River for whites only. The Evansville Newspaper held a contest to see who could come up with the best name.
Charlie Wiggins must have had an opinion on the horse shit that surrounded him, but he didn't let the man keep him down. He was a car guy and he was gonna do what car guys do – black or white. Ignoring the fact that Indianapolis was rumored to be even more segregated than Evansville, Charlie packed up his things, grabbed his wife, and moved to the town that birthed real American racing.
He opened up a shop on the south side and quickly garnered a reputation for being one of the best. Before long even white owners brought their Indy qualified race cars to Charlie for tuning and advice. Many owners did so in secret or, at the very lease, with discretion and as such, no official records were kept as to how many winners Charlie wrenched on. By all accounts, however, you can't count them on one hand.
The success inspired Charlie to build his own race car – "The Wiggins Special." He tested the car on rough and rutted dirt tracks located throughout the city and reached Indy type speeds with ease. Every year, he entered the car for qualification into the Indianapolis 500 and every year the American Automobile Association rejected his application. They sited an unwritten segregation rule. Assholes.
Eventually, Charlie found other black drivers and together they formed their own racing association. They raced all over the midwest and drew large unsegregated crowds. Charlie dominated the series and folks began to call him the "Negro Speed King."
In 1924, William Rucker took notice of Charlie. William was another black man that also just happened to be a powerbroker that doodled around with the black and white high society of Indiana. Rucker established the Gold & Glory Sweepstakes – an annual 100-mile race of speed and endurance for black drivers on the one-mile dirt track at the Indiana State Fairgrounds.
Frank Young wrote of the inaugural race:
"This auto race will be recognized throughout the length and breadth of the land as the single greatest sports event to be staged annually by colored people. Soon, chocolate jockeys will mount their gas-snorting, rubber-shod Speedway monsters, as they race at death defying speeds, The largest purses will be posted here, and the greatest array of driving talent will be in attendance in hopes of winning gold for themselves and glory for their Race."
The Gold & Glory race became a success on a national level. The race was attended by thousands and covered nationally by all of the major news sources. Charlie, of course, dominated the events.
The KKK didn't like the attention or the success that Charlie garnered. His shop was often vandalized and he was jumped on a number of occasions. Charlie never let down and continued to race and pressure the suits at the Indianapolis 500.
In 1930, Harry MacQuinn (a well known white driver) asked Charlie if he could drive the Wiggins Special in a race at Louisville. Charlie agreed and drove the car in practice at the event in order to get the tune. The crowd found out that a black driver was on their track and a lynch mod formed. For his own safety, the Kentucky police arrested Charlie and took him away.
In 1934, "Wild Bill" Cummings asked Charlie to be his crew chief at the Indianapolis 500. The AAA refused Bill's request, so Bill hired Charlie as a "janitor" and then put him to work on his car at night. Bill ran away with the 500 in one of the race's best performances ever. To his death, "Wild Bill" gave all of the credit to Charlie.
In 1936, it all ended… Charlie was involved in a 13 car pileup at the Gold & Glory race. He survived, but his right leg had to be amputated. Charlie went on to champion and train many white and black mechanics and driver's of the period, but would never race again. He died in 1976.
Notre Dame Historian, Richard Pierce, summed it all up by saying:
"Charlie Wiggins was a hell of man. We could talk about Charlie Wiggins as a mechanic, his ability as a driver. We could say all those things. And without the pejorative function, without the sexist connotation, we have to say at the end of the day that he was… a man."
123

Comments on the H.A.M.B.