Finding the Alexander Brothers' Alexandria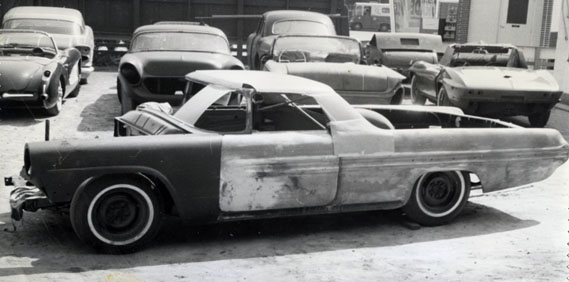 Things are lost. Things are found. Even though everything from pets to teenagers can be tracked via satellite, pesky keys and change continue to slide between seats without fail. An old scientific law states these strays will eventually surface, albeit after days or decades. But this game of lost and found has one critical catch — we have to know what we're looking for.
Enter Mike Alexander. The younger half of Detroit's famed Alexander Brothers, he and his late brother, Larry, were responsible for some of the most tasteful and groundbreaking customs of the 1960s. Think the Victorian, Alexa, Addonis and iconic Deora. The forward-thinking duo netted a pair Ridler Awards and a fair amount of magazine ink before the decade came to a close, carrying the torch for Detroit customizing for the world to see.
Unlike many West Coast builders, they acted in subtlety. From the creative mind of Harry Bradley to the A-Bros. shop floor, the team emphasized clean, simple designs. Mike says they prided themselves on building cars just as Bradley sketched them. But in 1964, one project wasn't finished as the design intended. As a matter of fact, it was never finished at all.
The project, dubbed Alexandria, was penned by Bradley and based on a 1955 Ford. Although it started life as a lowly four-door sedan, the A-Bros. had visions of  a swoopy hauler.
"We loved trucks," Mike says. "There were so many neat cars on the road, and we liked cars to customize. But we just fell in love with trucks. We decided we could make them handy now and then, if you had to drive one. We always built them saying it was going to be a shop truck, but they ended up being a show truck."
Mike says they started in the rear, installing '62 Pontiac quarters. The sedan body was chopped and sectioned, and the wheelbase was shortened to mirror the drawing. Plans called for a 406 Ford motor beneath the radically restyled front end. At this time, the brothers worked on the Alexandria in between commissioned jobs. Because it was their personal project, it was low on the priority list as they prepared to move.
"Unfortunately, we were getting close to moving to our final shop," Mike says. "I guess we needed a little money and even though I was against selling it, it made sense."
With all but the headlights and lower front end completed, the Alexandria was gone. Mike says because of the car's sale, the brothers were able to install a paint booth in their third shop.
Countless projects have come and gone, but nearly five decades later the unfinished Alexandria is still on Mike's mind.
"It would have made a nice car," Mike says. "With today's technology, we could have taken it a little further."
The Search
Talking to Mike, it's apparent that the Alexandria was special to him. Without hesitation, I offered to help in any way I could. He pushed a blue file folder in my direction with both hands. In neat writing, the tab at the top read: "'55 Ford Truck, Not Finished." Inside were dozens of images and negatives of the A-Bros'. lost truck.
You see, there's something much different about searching for lost change or misplaced keys — you don't have a global network of like-minded people lending you a hand.
So here, take a look. Get the scent. And let's see if we can find the Alexandria.
-Joey Ukrop
Note: The majority of these pictures have never been seen outside of Mike's collection — let alone published. Treat them carefully and with the utmost respect. Photos courtesy of Greg Sharp and the Mike Alexander Collection used with the permission of Mike Alexander.  Concept sketches penned by Harry Bradley, R & C March, 1964 and December 1966. 
Prepare yourself for a trip to the A-Bros. Custom Shop, like you've never seen before.
41

Comments on the H.A.M.B.