Register now to get rid of these ads!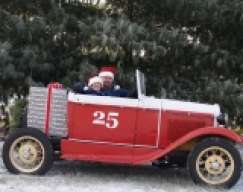 Birthday:

March 27

Location:

Occupation:

Physics/Engineering Student
Loading...

Loading...

About

Birthday:

March 27

Location:

Occupation:

Physics/Engineering Student

31 Ford RPU

40 MPH Club, Christian Co. Illinois

My name's Luke McLeod and I got interested in "old cars" back in about 1984. I was 9 then and a family friend, Paul Easley, ran a little restoration and paint shop (Oak Leaf Autobody) out of his home garage. He had a '36 Ford Woody Wagon, a Willey's P/U, and a '35 Cad LaSalle Coupe resto project. He had more cars than he could drive to a show, so my family started tagging along and driving the spares and the swap-meet van. He sold off all but the Cad by the time I was 15 and I got out of it for a few years. When I was 19 (1994), I met my wife Heather and accidentally stumbled back into rodding. Her family is big into it. Mel Lawyer (yngrodder) is her brother. I had been kicking around the idea of building a Model A for years, but really didn't think I had the cash for it. Mel suggested that between what scraps the family had and the scraps of a few good friends, we could build a rusty 'A P/U. We started it the spring of '05 and I was driving it a year later. 'Been working on her ever since. She's got parts of at least 21 Model A's in her at last count. She's still rusty and half incomplete with no bed, but a friend and I rebuilt the engine in the fall of '07 and she runs great. I'm (slowly) working out the kinks in the bodywork (some a result of years of neglect, but most resulting from my trial-and-error methods), and rebuilding the mechanicals as I go. I don't know if it will ever have a smooth finish, win a show or draw a crowd, but that's not what I'm after. The enjoyment of time spent with good friends over the road, or over a cold one, makes all the time and money spent worthwhile. The wife and I have had great fun driving the old truck to cruises and shows. We always try to make the Frog Follies and the Newport Hill Climb. The HAMB has been a great asset to me, and I would like to thank the staff and all of the members for providing me with so much info and entertainment. And to those who keep asking "When you gonna' finish it?", or saying "It'll be nice when you're done", I say: "Nuts to You!" Luke

As a side note, after sitting in the back of the garage for at least 20 years, Paul's '35 Cad is now probably the best restored example in existance. Too bad he sold it almost as soon as he finished it.

Interact

Signature

Loading...

Loading...

Loading...
Register now to get rid of these ads!