Register now to get rid of these ads!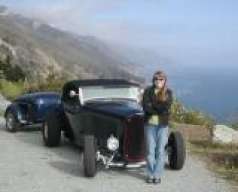 Gender:

Male

Location:

Occupation:

Blue Collar Union Worker - Retired
vintagehotrods
Member, Male, from Prescott, AZ
vintagehotrods was last seen:

Nov 26, 2022 at 2:19 PM
Loading...

Loading...

About

Gender:

Male

Location:

Occupation:

Blue Collar Union Worker - Retired

A collection of old Fords: seven '32s, a '34 3W, a '37 Ford Cabriolet and a '56 Chevy Handyman wagon. More details of them in my biography.

Lone Wolf - No Club

I have been a gearhead since I was a little kid and I'm 69 now. I grew up on a farm so I was driving as soon as I could reach the pedals on anything with a motor. My first car in '67 was my brother's old '51 Ford with a flathead that I put duals and a two deuce Fenton manifold on, then a '57 Chevy with a Crane Cam and two fours that I worked on every minute and spent every penny I had on it (and almost lost my driver's license with), and finally a '51 Chevy with a straight axle and a tilt front end. The South Dakota Highway Patrol finally made me park it because it wouldn't pass SD Safety Inspection (in their opinion). Then I got my first motorcycle in '71 and promptly got nailed by an old lady's right rear quarter panel and landed in the hospital with three broken vertebrae in my back which gave me enough money to build a basket case '50 Panhead chopper (seeing Easy Rider in '69 was my inspiration). That was fun until I got drafted into the Army and spent the next two years in the Field Artillery with a tour in Bamberg, Germany. My girlfriend, Jan came over and we got married over there and spent our free time seeing as much of Europe as we could on Army pay in a Fiat 600. We are still married 43 years later and she is into the cars almost as much as I am. After getting out of the service in 1974, I started working in motorcycle shops in 1975 building and repairing bikes and selling parts, before becoming a Maico Motorcycles dealer in 1980. I got hooked on flat track racing on short tracks, half miles and eventually scrambles and motocross and ended up trail riding (with my friends it was more like trail racing). I also raced Honda three wheelers for a few years in local and national events. Eventually I wised up before I hurt myself and got back into hot rods in '95. I've been totally obsessed ever since. My first car then was a '57 Nomad (which I sold after moving to Prescott), then a Gibbon bodied '32 Roadster hiboy roadster that I finished in 2000 and put over 55K on it (which has also been sold). Deuce fever took hold really bad and I now have eleven old cars with eight of them steel Deuce's: a restorod 3W, an original gennie 5W with 55K, a hot rod 5W with a tunnel rammed SBC 355, Muncie 4 speed (apart for paint now), my Deuce pickup with a SBC 350/Turbo 350, a Brookville Roadster project, a chopped Cabriolet project (see the Tree Car post), a Vicky project and a Fordor with a SBC 350/200R4. I also have a sweet old gennie '34 3W driver, a '56 Chevy Handyman wagon and a restored '37 Ford Cabriolet. Some drive, some just run, most are projects, and all need work!! Anyway that's my life!

In late 2010 we sold our home in Renner, South Dakota and moved to beautiful Prescott, Arizona for the great climate and a location closer to all the fun stuff I like to do. We built a new home and my workshop/garage. We finally finished moving the rest of my collection of stuff down here with a nine car hauler and eight loads with my truck and trailer.

Signature

"Unthinking respect for authority is the greatest enemy of the truth!"
Albert Einstein 1901

Loading...

Loading...

Loading...

Loading...
Register now to get rid of these ads!