Register now to get rid of these ads!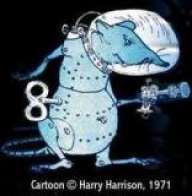 Location:

Occupation:

stuff
stainlesssteelrat
Member, from ms
stainlesssteelrat was last seen:

Oct 14, 2018
Loading...

Loading...

About

Location:

Occupation:

stuff

46 international .

Those mountaineers
The Mountaineers have hairy ears.
They piss through leather britches.
They bang their cocks against the rocks.
They're hardy sons of bitches.
Those mountaineers, they give three cheers
For Hell and all its trifles.
They bang their balls upon the walls
And pepper them with rifles.
The mountaineers, they're hung like steers.
They'll shag a yawning chasm.
They flop their nuts against their butts,
And shoot a mean orgasm.
The mountaineers, they love their beers,
And quaff one every minute.
They drain their jocks in big stone crocks,
And wash their faces in it.
The mountaineers, they shed no tears.
They're full of quips and frolics.
They poop foul gas from out their ass
To cool their iron bollocks.
Those mountaineers can shift their gears
And shit in all directions.
They wipe their ass on broken glass
Or on their proud erections.
Those mountaineers with hoots and jeers
Bewail a cuntless nation.
They jab their tools in army mules
In abandoned masturbation.
Those mountaineers, they have no fears
Of crab-infested niches.
They scratch their pricks with sandy bricks
When annoyed by lousy itches.

Oh, mountaineers have shaggy ears.
They diddle not with trifles.
They hang their balls on canyon walls
And shoot at them with rifles.
They pound their cosk upon the rocks,
Those hardy sons of bitches.
They wipe their ass with broken glass,
And care not if it itches.
When tail is rare, they rape the bear,
And tie her in half hitches,
Nor hesitate to masturbate
Within their leather britches.
They use their pricks for walking sticks
In crossing muddy ditches.
They fuck their wives with carving knives
And flog their teats with switches.
They brew their booze from boots and shoes,
A drink they seem to relish.
They shave their jaws with crosscut saws,
Which makes them look quite hellish.
They always throw their balls, you know,
At women and at babies.
They're full of snot and other rot
And covered o'er with scabies.
From dark till dawn with one bone on,
They fuck their clappy wenches.
From dawn till dark, they beat their bark
And screw knotholes in benches.
With limber tools they flail their mules
And warm their offsprings' brtiches.
With stiffened cocks they pry up rocks
And boost Fords out of ditches.
The mountain lass is full of pash.
They crack nuts in their snatches.
They love to screw an hour or two
Bare-ass in bramble patches.
The mountain twat is boiling hot.
It covers pricks with blisters.
A stranger once tried lapping cunts
And singed off all his whiskers.
Those hardy cunts use double shunts
And mighty heaves and passes,
That pull the pricks of common hicks
And set them on their asses.
They ne'er despair when prick is rare,
But frig themselves with cactus,
Or mount a jack upon their back
Which gives them lots of practice.

Interact

Signature

Who you tryin' to get crazy with ese?
Don't you know I'm loco?

Loading...
Register now to get rid of these ads!