Register now to get rid of these ads!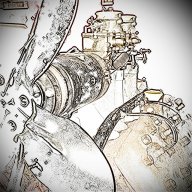 Gender:

Male

Birthday:

Dec 11, 1965

(Age: 54)

Location:

Occupation:

just a little recovering... too often, it's seams
Spooky Two
ALLIANCE MEMBER

, Male, 54, from Osoyoos B.C. Canada
Spooky Two was last seen:

Dec 4, 2019
Loading...

Loading...

About

Gender:

Male

Birthday:

Dec 11, 1965 (Age: 54)

Location:

Occupation:

just a little recovering... too often, it's seams

'29 Ford A-V8 roadster... hop up
'29 Ford A open-cab pickup... hop in
'32-'33-'34-'39 hybrid frame... hop on

Club: Lone Rollin' ...with only the gears and the grease to guide my way.

Well, as S2 me...

I really have not had ...HAMB time.

Let me clarify ...I followed the HAMB long long before I joined, and back then I was afflicted, well, with the F.O.M.O.... That's the "Fear Of Missing Out".

So, I joined in... and rattled on. Sharing my "about you" commentary with updates as to how and what, given the this that and thus, alluding to my prolonged gearhead disease and whence it arose. That was fun ...then, and still fun now!
But(not too unlike today's fuels)... everything can't be what it was. Things just change.
Hmm, change... well, CHANGE, in fact brought us Hop Up to Hot Rod, Hoodlum to Hero. So... good can come of it.

For myself, it's some personal change ...and time clock change. And this has affected HAMB time. I swear that I'm running backwards more than forwards these days.
Given this, make note, I will ALWAYS support the HAMB and I will do so by means of the yearly membership. So, many "thanks" Ryan... to keep the library doors open for absentees like me.

And, fellas, I am adjusting and settling these days while processing another "new" change referred to as J.O.M.O.... This, by all accounts, is the "Joy Of Missing Out" ...but, held with MY slight modification being "Joy Of" tweaked to "Just Only". Therefore these days, I am... "Just Only Missing Out". And perhaps ...this won't be like a forever thing. I really just need an extended moment to get the parts I have together, and in the interpretation that's in my head ...a blend of early HAMB ideologies and my "little pages" library ...and, the inevitable definer, spare CHANGE.

Here is where I am pertaining to the build of the A-V8:
1949 Mercury 255 engine coming together as machined to the stock specs of a '53 Merc with a .030 overbore, 4 ring Rebuilder's Choice pistons, 1.54" stainless valves, and such. Oh... and I got to say this, Delta Cams of Tacoma cleaned up the cam and the Johnson adjustables like sparkling jewelry!! I took only 0.007 off the '49 heads. The engine was just soooo nice, I really couldn't F it up( 110 hp is gonna be fine ). The '39 trans is good to go. I frankensteined the 1933 differential to include '47 gear set and carrier( 6 spline pinion ) hooking in NICE '34 axles to the '33 bells... and then this sets the curved '33 Coupe rear spring into Gary Mussman's mint '32 rear crossmember. There is a little degreeing, but not terrible. This leads to a 1940ish tube and drive shaft shortened( thanks to the kind fellow in Arizona). Now, I am trying for that "Pete Henderson Roadster" ride height with a couple of rear leaves removed and reversed front leaf eyes... All this is of course set into '32 frame rails with a '33/'29 front crossmember, a 1939 X-member( that's still quite a task in process )... for the trans and '33 brake pedal mount and bracket/cross shaft, and then that '32 rear crossmember. I am maintaining use of these CHERRY mechanical brakes from a '34 Delivery, rolling along with same size Firestone "New Zealand" whitewalls on four primo 17 inch '33 rims already Baby Blue. The front axle is all '33 including the uncut wishbone. Basically... the new stuff is the '55 F-100 steering box and perhaps a '55 Rochester 2-CG carburetor on the '49 Mercury aluminum intake( kinda still liking the 885 towering inferno, we'll see?!? ). The body is 1929 as delivered in roadster form... with the exception of the windscreen and folding stantions being '30 Deluxe ...and will the rumble seat remain?, that depends on how much I shorten the deck lid to enable a 1932 gas tank( remember Bass's Coupe ). ( A shout out to any reader of this having a picture of Nic 'o teens '29 on a '32 frame with tank... I would love to see photos again, pm me. ) Now, I am also undecided as to my choice of radiator covering... I have '29 rads/shells, and '30 rads/shell to modify as options... and I have such a nice brass rad out of a '37-'38(?) Ford truck, and the turn downs look great in alignment with the 8CM water housings ...a little radiator shortening and '29 hood stretching isn't a terrible thing... if that's what which shell( '29, '30, or perhaps even a killer truck '37! ) used mandates...

...ya see, F.O.M.O. "Focus Or Miss Out"! This is what happens... I'm rambling on the computer ...I really would rather be working on the roadster in the shop and outside the shop just "crunching the gravel" and GETTING 'ER DONE!

I must remember it's only J.O.M.O. for a little while ...and THEN! ( as I, wannabe THEM! ) it's on to single finger cruisin' past these "new-types" Canadian Car Shows that 'round here won't allow older than '49 to participate. Yes, hmm, old cars not need enter. Change... disappointing change for sure! Well, until the flathead gets tossed for used Electric Tesla crap.
( Hey Chris... I really do miss East vs West! )

So, in the meanwhile, take 'er easy fellas ...find "your" time in "your" build and PLEASE ENJOY EVERYTHING ALWAYS.
And given, the this, that, and with this ...the ol' ways just ain't too (J.O.M.O.)spooky to remember... as these '29s of mine, really are the ever and endearing old bones of days long ago.
And that by the "A" is where I still as...

...and the truth being told. I am... a wordy dork! rolling eyes tongue out face emoji as "text speak" would have me change and condense this entire soliloquy to having said nothing at all.

Rave on,
S2

ps- on the spinning platter over there is Thelonious Monk & John Coltrane " Ruby, My Dear " ...and I'm just staring out past my mind, thinking of the 6 and 5/8ths people reading this ...I am okay with that
...heck, it beats the S2ing in F.O.M.O.

Interact

Signature

"And all that blends with and augments the whine..."
JOE KRESS

Loading...

Loading...

Loading...
Register now to get rid of these ads!