Register now to get rid of these ads!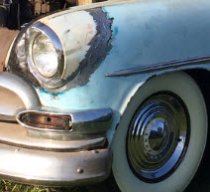 Location:

Occupation:

Got tired of working for a living so I went to...
scofflaw
ALLIANCE MEMBER

, from Ohio
scofflaw was last seen:

Mar 4, 2021 at 9:30 PM
Loading...

Loading...

About

Location:

Occupation:

Got tired of working for a living so I went to...

1933 Ford truck
1972 Ford F100
1954 Pontiac Chieftain

Prefer a bat

Details huh? What can I say, I wasn't born with money falling out of my a$$ hole, but then again if I was, and had everything handed to me I probably wouldn't be filling out a profile form for this web community.

I watched my dad work on his own grocery getters growing up, but it was never an enjoyable experience for him. I always wanted to help but it was years before I was even able to master a flashlight holding technique that would keep the profanity at a minimum.

I was always interested and curious in anything mechanical, lawn mowers, mopeds, three wheelers, go-carts etc, but given my financial status however, I never bought anything new. Most projects by the time I would get them home were broken hopelessly beyond repair, and became monuments in the back yard frozen in an ever permanent state of disassembly.
There were those rare occasions when, something I tried to fix actually worked, and what a glorious time that was. Suddenly all the effort, the bloody knuckles, grime, etc. became worth it. There was nothing like that first time, the sound of an engine built by your own two hands firing to life. I remember suddenly feeling like I knew an ancient secret. I had attained a truth in life only shared by a select group of people. I could fix or do ANYTHING!!!!!....and then a piston would break and smash into a spark plug and shoot shrapnel past my head. Ah yes disappointment, frustration, and failure… I remember thinking; "I'm never going to work on that piece of crap again!!"…. The sun would rise the next day and I'd be right back at it.

Once I could drive …legally, if I wanted to go somewhere and my car was broken, I had to fix it. Most of what I know about cars I learned the hard way by trial and error, or read about how to do something. Every once in a while I'd find someone to ask who actually knew an answer to my question and showed me not just how, but why something mechanical was a certain way.
Those are the moments I remember the most, and I do my best to pass what limited knowledge I have on to others trying to learn.

There is something special about hot rods from the late 40's through the early 60's working on and building these types of cars remind me of my earlier mechanical experiences. Something that's simple and raw and honest.

Interact

Loading...

Loading...

Loading...
Register now to get rid of these ads!