Register now to get rid of these ads!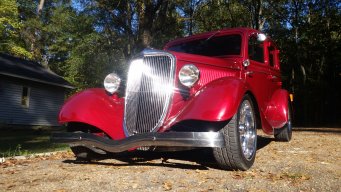 Joined:

Dec 1, 2020
Posts:

2
Likes Received:

6
Trophy Points:
Robert Gee
Member, Male
When the stars align, make a move. They don't do that often. Dec 2, 2020
Loading...

Loading...

About

When I was about twelve, I read that time slows down when approaching the speed of light so I constructed a time machine by securing my father's portable generator to the back of my mini-bike with rope and attaching the drive belt to the back wheel. Unfortunately, instead of traveling through time and finding myself in the future, I traveled about fifty metres along the footpath at 200mph before finding myself in a bush. When asked by the nurse filling out the hospital accident report "Cause of accident?" I stated 'time travel attempt' but she wrote down 'stupidity'.

If I did have a working time machine, the first thing I would do is go back four days and tell myself to read the warning on the hair removal cream packaging where it recommends not using on sensitive areas. Then, I would take my Macbook Pro back to 1984 and visit Steve Jobs. After selling my laptop to him for millions I would return to the present. I could do this several times as each time the present technologies would have changed. It is a flawless plan, I am sure you will agree, lacking only the availability of time/dimension manipulation technologies.

Interact
Register now to get rid of these ads!