Register now to get rid of these ads!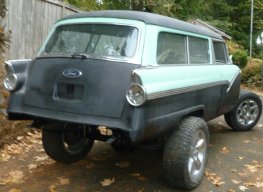 Location:

Occupation:

Retired
retiredfireguy
Member, from Edmonds, WA
retiredfireguy was last seen:

Mar 5, 2018
Loading...

Loading...

About

Location:

Occupation:

Retired

Attempting to build a '27 Ford roadster with the standard Chev 350/350 combo and a Ford 9" rear end.

Thursday Night Garage Association

I got my first car when I was fifteen. It was a '48 Chevy coupe, and had a top speed of about 85 MPH. My Dad gave it to me. I wish I still had it, but back then, I couldn't wait to get something newer, faster, cooler. Over the years, I've had dozens of cars, and some of them are even worth mentioning. I've tried to put a few of them in chronological order, or as close as my failing memory will allow:
'56 Ford hardtop, with a 272 V8 and three-speed on the floor. Kind of a rat, but lots of fun, and that Y-block sounded cool with dual straight pipes.
'57 Ford Fairlane 500 2-door post. Red. 292 automatic. Put a rod through the block.
1949 Caddy sedan, with a '55 crate motor installed by the original owner. Traded a broken 15 HP Evinrude for it. Sold it cheap to help finance an engine transplant for the '57 Ford. Should have kept the Caddy instead.
'57 Chevy 4-dr hardtop with a 283 powerpack and the trusty powerglide. My first four-barrel engine. Slid off the highway sideways, and rolled several times before it came to rest, upside-down, on a railroad track. A shame.
'57 VW oval window. Fun little car. Wrecked this one, too. Another shame.
'59 Impala hardtop, black, with a red interior and chrome reversed wheels. On a curvy Louisiana highway, in the rain, I discovered that those big horizontal fins really did provide lift - If you were going fast enough. I was.
1960 Chev Biscayne 2-dr post. Six, stick. A $50 transportation car with solid, welded motor mounts.
'64 Comet Caliente hardtop. Hot 289, automatic. Kind of a rat, but very quick. My first car with radial tires, which seemed pretty exotic at the time.
'67 VW Beetle, black with a red interior. Bought it as a total and rebuilt it, with a lot of help from a couple of professional body and paint guys. Turned out nice. Should have kept it.
'58 Ford shorty pickup, six-stick. My first truck. My first transmission rebuild.
'69 Cutlass S convert. Black and beautiful, with a pearl white interior. The only thing wrong with it was that it wasn't a 442 with a four-speed. Had to get rid of it because my first wife kept backing it into things.
'67 El Camino, with a built 327 and three-on-the-floor. Complete with dual quads, headers, Hurst shifter, negligent driving ticket, etc. Actually owned this truck twice. Very quick. Too much fun. When I first bought it, it was absolutely beautiful. By the time I finally parted with it, it was a sorry example of why you shouldn't drink and drive. Yet another shame.
2 Corvette converts, a '68 and an '88.
3 Model A's, a pickup, a tudor, and a single-seat racer.
Current daily driver, an '07 Dodge Ram shorty w/4.7 V8, six-speed manual, and 3.92 posi rear.

Interact

Loading...

Loading...

Loading...
Register now to get rid of these ads!