Register now to get rid of these ads!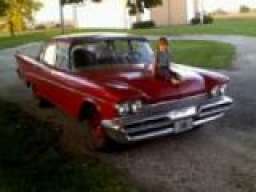 Location:

Occupation:

Mom
Loading...

Loading...

About

Location:

Occupation:

Mom

'59 Desoto Firedome 4dr sedan, 1950 Desoto Custom 4dr sedan, 1948 Kaiser (not mine), 1978 CJ-5

Kaiser-Frazers Owners Club International

I have been into hot rods ever since I can remember. My mom and dad had a '70 Charger that was way cool, not in the traditional "rod" sense, but at least it was a muscle car! I've always been a sucker for rods and kustoms. The closest I came to owning one was a 1954 or '56 Dodge truck I bought that was dragged home with a tractor. I should'a kept that and made it a rod but didn't have the funds-it was actually my first car!

Its all about tradition, style, appreciating the work of the guys that paved the way, and having a sense of pride in your work that can only come with hands on experience.

I am working on the Kaiser in an attempt to learn about rebuilding a car that needs a lot of tlc.

The Desotos are my current projects to learn sheetmetal working skills as well as welding and body work. I hope to make the '59 a mild 60's styled kustom, setting a little lower, wide whites, maybe Alexander Bros or Watson inspired. The '50 will be more old school, some hop up parts in the engine, red wheels ('cause the kids love them), and who knows what else. Above all, it will be fun.

I know this isn't something that you pick up overnight but I couldn't think of any other way to learn since I spend the day watching my little ones. We can't wait to go to a car show in the Desoto!

Oh yeah, I am as stubborn as they come.

Interact

Signature

DeLightful, DeLovely, DeRusty...DeSoto!

Loading...

Loading...
Register now to get rid of these ads!