Register now to get rid of these ads!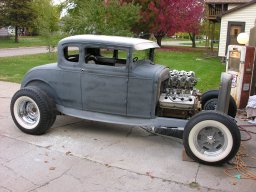 Location:

Occupation:

Editor/Publisher/Freelance Writer
olskool31coupe
Member, from Midwest
olskool31coupe was last seen:

Sep 21, 2017
Loading...

Loading...

About

Location:

Occupation:

Editor/Publisher/Freelance Writer

'70 'Cuda 440
'70 'Cuda 340 Convertible
'31 Ford 5-Window Coupe w/354 Hemi

"CLASSICS", VTCI, E-Body Mopar Club of America, Midwest Mopars, Outkasts

Always been a 'car nut' and enjoy hunting for vintage tin, which is getting harder and harder to find. Do freelance writing for various automotive publications, in addition to being newsletter Editor for the "CLASSICS" and the E-Body Mopar Club of America.
I was into Thunderbirds for over 30 years, and wrote the '58-'66 Thunderbird Authenticity & Restoration Guide published by MotorBooks International and used by 'Bird enthusiasts worldwide as a guide to correctly restore their cars. The book went through four printings. I am still interested in '62 and '63 M-Code Thunderbirds with the 340 h.p. tri-power 390 engines and maintain a serial number directory on these cars. I also maintain directories on the '61 Pace Car convertibles and '63 1/2 Special Edition Monaco 'Birds.
I built a replica of a '63 M Hardtop in the 1980s that eventually became a National 'Senior Car' and set many of the standards for VTCI (Vintage Thunderbird Club International) judging today. I also served as '61-'63 'Bird Technical Editor for the VTCI since the early '80s. The Thunderbird was featured in the May of '89 issue of MuscleCar Review Magazine.
My interests in E-Body Mopars runs back to the mid-seventies when I owned my first Barracuda Gran Coupe, a loaded-up 383-powered "Sales Bank" car. That car I traded (and later regretted) for a new, black and gold '76 Pontiac Trans Am 50th Anniversary model which I ordered and never regretted owning.
Over the years, I've also owned a '69 Mustang, built a custom '56 Ford 2 dr. Ranch Wagon with tunnel rammed 302 and Top-Loader 4-speed that was featured in the October '90 issue of Rod & Custom magazine, and a double Daytona Blue '64 Corvette Coupe with 300 h.p. 327 and a 4-speed.
My interest in Hot Rods stems back to my earliest issues of Rod & Custom from the late '60s and early '70s. My pro street '31 Tudor Sedan album shows what can be done entirely at home in your garage. . .even the paint!! This car was built in the 1990s at a cost of almost $30k. . .so when guys say they can build a 'nice' car for $10k, I'm sorry, but it can't be THAT nice! Sorry guys. The '31 was built by myself and friends, at home in the garage, so most of that $30k was parts and materials!! But then, in your defense, not everyone likes power windows, seats, remote door locks, sunroofs, stereos and leather interior either.
My current project, a '31 Coupe, started out to be a 'rat rod', but has swung the other way now. . .while still being a 'traditional-style' rod, it will have paint, and will, for all intents and purposes, more resemble an early '60s custom you might have seen on the show circuit back then. No power nothin' on this one. . .except the 354 Hemi. . .and the brakes to stop it!!

Interact

Loading...

Loading...

Loading...
Register now to get rid of these ads!