Register now to get rid of these ads!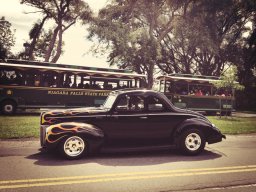 Gender:

Male

Birthday:

March 26

Location:

Occupation:

Maintenance mechanic, stationary engineer
Loading...

Loading...

About

Gender:

Male

Birthday:

March 26

Location:

Occupation:

Maintenance mechanic, stationary engineer

55 Chevy 2 dr sedan, 40 Ford coupe, 53 F100

I'm a 63 year old who got into hot rods from watching my older brother and his buddies mess with their cars as I was growing up. A "real old" (my dad's age) guy across the street had a 40 Ford coupe and a kid up the street had a 38 Ford coupe and my older brother had a 57 Chevy 2 door sedan. He sold out and bought a "late model" Muscle car, a 69 Road Runner 440 six pac. Neat car, but I always liked his 57 better. I grew up in the 60's when muscle cars were coming on strong and most of the guys either got rid of their hot rods or moth balled them in favor of the new factory hot rods. I always had a soft spot in my heart for the old cars. I bought my first car in 1972 when I was 15, a 55 Chevy 2 door sedan, I still have it. I put a 327 in it, Muncie 4 speed, 57 Pontiac rear with 488 gears, Cragar mags with L60's stuffed up under the stock wheel wells. Had lots of fun in that car in high school. Its been sitting in the garage for a long time now waiting for its next reincarnation. My oldest son is fooling with it now, hoping to get it back on the road. Later in 78 I got my 40 coupe. An old drag car with 327 Chevy, tunnel ram, 2 fours and a 4 speed. It was black with a bitchin black and white roll n pleat interior. We repainted the car black lacquer and I searched the swap meets at Carlisle and York for a set of American Torque thrust (because they weren't available new at that time) and had them polished because that was the shit when I was growing up. I've had several different wheel/tire combo's on it over the years. About 20 years ago I had the upholstery redone in the same style that it was done the first time back in the early 60's. I put well over 200,000 miles on it over the years and I still drive it often. Been to all the nats east shows, Timonium and York, the nats in Columbus a few times,(NSRA and Goodguys) the nats south, Hot rod reunion in Bowling Green Kentucky, Good guys @ Indy, Goodguys @ Charlotte, Pigeon Forge run, NSRA Louisville nats, Syracuse nationals, LA Roadster show, Bonneville Speedweek etc. I've always liked traditional cars and never cared about trophies and despise the element it sometimes brings to the hobby. I have remained pretty much the same through out the years, never swaying too much with the trends, taking the abuse about my tuck n roll when the tweed (burlap) trend came along. The black lacquer is pock marked and cracking from too many road trips. But apparently my old beat up hot rod is back in style now due to its road rash and its rubbed through patina that it came by naturally through years of rubbing it down with #7 Meguires.
So I'll continue to drive my 40 and watch as the next group of young guns puts their spin on this crazy thing we call hot rodding.

Interact

Signature

Bucket list are rubbish. Stop writting list and get on with it!




Andy Volpini

Loading...

Loading...

Loading...
Register now to get rid of these ads!