Register now to get rid of these ads!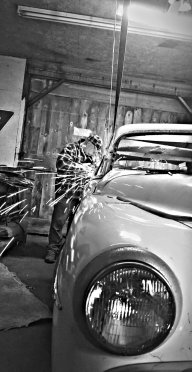 Mopar Tony
Member, Male, from Southeast Iowa
Freezing my balls off in Iowa Feb 11, 2021
Mopar Tony was last seen:

Jan 14, 2023
Loading...

Loading...

About

Gender:

Male

Location:

1952 Plymouth, 1950 mercury, 1947 International KB3, and a 1951 Ford.

Car Guys of South East Iowa

Well a little about me I guess. My name is Tony and I am 30 years old and I am a car addict. I love chop tops and lead sleds they are my passion. However also love muscle cars and hot rods. My grandfather raised me as a car guy as my dad died when I was six so I was brought up on car shows and 50s music. He used to take us to cruise nights and car shows in a 1956 Ford Crown Victoria that was a mild custom. I am a mopar freak but was raised around Fords and I own my grandfather's 51 ford which I am passing down to my son. I have always been in love with chopped mercs and they are my dream car. HOWEVER I will never be able to afford one and being a mopar guy I stumbled across my current project, my 1952 Plymouth Cranbrook. My plan is to chop it and shave it and make the best custom out of it I can with the talent I have and the money I have which is very little LOL. I have already started gathering parts for the mechanical side which I hope to have mostly done by summer of 2021. Swapping a 360 magnum with a ax15 5 speed.

Interact

Signature

"You can have anything in life that you want, as long as you work for it, no one is gong to give you anything."
"Wish in one hand and shit in the other, see which one you get first. You want it, you have to work for it."
- My Grandfather, best man I ever knew and I miss him every day!

Loading...
Register now to get rid of these ads!