Register now to get rid of these ads!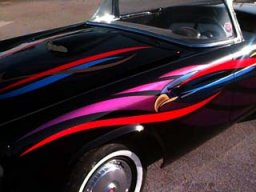 Gender:

Male

Location:

Occupation:

Retired
hotrod1940
Member, Male, from Gainesville, GA
hotrod1940 was last seen:

Sep 18, 2023
Loading...

Loading...

About

Gender:

Male

Location:

Occupation:

Retired

1953 Buick Skylark, 1936 Ford roadster

Bob Nugent, retired and currently restoring a 1953 Buick Skylark and chasing rust.

50 years worth of hotrodding, system administrator of Hotrodsonline.com, Started as a pinstriper as a kid. Owned the El Matador custom 1940 Ford coupe built by Bill Cushenbery, for a time. Helped start the Famous Little Deuce Coupe, of Beach Boy fame, with my friend, Clarence Catallo, when we were both teenagers. Many cars over the years. I was born in 1940 and started becoming involved with hotrods in the mid fifties. Mostly customs there in the fledgling years of the Detroit Autorama. I was there for the first one in 53, I think that was the first, also the Rotundra shows.

I moved to Florida in the sixties and became involved in drag racing there. I was the flagger at the old Golden Triangle drag strip in Oldsmar, Florida and that was home to Don Garlits in the early days. That is where he did most of his testing and took home top eliminator almost every week he was in town. Top Eliminator going to Don Garlits was a given. We literally paid his living at that strip. At that strip I flagged off Don Garlits, Ed Garlits, Chris Karamisines, Connie Kalitta, Tommy Ivo, Dragmasters, Art Arfons, Pete Robinson, and my all time favorite, local boy Ed Pantley, plus others that I can't remember. That old drag strip is now the street going into a subdivision. About 5 years back, I went out there and stood in the middle of the street and remembered some great times. Tragedy and death were involved there too.

During this time is ran a Cadillac Powered Henry J with an extended front end in A Gas, held the record for one week at 122mph at 12.92 in the quarter.

Did a car show in St. Petersburg Florida in 1961 that featured the original Beatnik Bandit that I rented from Bob Larivee and Ron Ekholm of Showcars inc.

Lost my ass.

My proudest moment as a striper was striping the Rolls Royce Serial #3, the first privately owned Rolls in the world. The first Rolls was disassembled for parts, and the second is in the Rolls museum. The one I striped, #3, was restored by Millard Neumann, who owned the Hav-A Tampa cigar company in Tampa, FL. I striped most of his Rolls'

I also striped for the older restorers in Florida, The Hovey Bros, Bud Josey, Bill Woolridge, Phil Belote, and thousands of hot rodders, unfortunately, many of them have passed on, so you will have to take my word for it.

Lately I have been doing what I call bucket list trips and they are chronicled on my website.

Latest bucket list check off was road testing a 2011 Shelby GT500 provided by Ford Motor Company to post on my website

www.hotrodsonline.com

.

Interact

Loading...

Loading...

Loading...

Loading...
Register now to get rid of these ads!