Register now to get rid of these ads!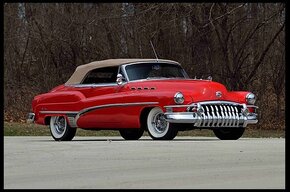 Gender:

Male

Birthday:

Feb 14, 1944

(Age: 78)

Location:

Occupation:

retired
Hnstray
ALLIANCE MEMBER

, Male, 78, from Quincy, IL
Loading...

Loading...

About

Gender:

Male

Birthday:

Feb 14, 1944 (Age: 78)

Location:

Occupation:

retired

'38 Buick Coupe '37 Cord (replica) '41 Buick Coupe,'49 Ply Club Cpe,'54 GMC P.U.,'55 Chrysler Hardtop,'56 Stude Skyhawk, '53 Dodge Coronet Diplomat Hardtop. '60 Studebaker Lark Hardtop, '54 Studebaker Conestoga wagon, '49 Hudson Super Six Coupe

Inliner's International

Born and raised in suburban St. Louis, MO. U.S. Navy veteran '62/'65. Lifelong interest in anything mechanical....bicycles, go karts, cars, motorcycles, airplanes ..... off roaded Jeeps for a number of years. I have been around and in the car business since adolesence, the earliest years in an independent body shop. After the Navy, in franchised dealer service and parts. Then in sales, sales management and the latter 23 years as a franchised new car dealer.

My first car at age 14, a '50 Ford 2 door, I bought wrecked and repaired it myself, except for final paint. As the years passed I owned at least a couple dozen hobby vehicles, from a '31 A 2 door through later '30s, '40s, '50s & mid '60s models, not necessarily in that order.
My first non-stock engine swap occurred when I was about 17 with a '51 Chrysler 331 hemi/semi-automatic into a '53 Plymouth ragtop. I got it running and driving but the hemi size and weight adversely affected driving characteristics so I pulled it and I found a '55 Dodge 270 hemi/stick 3 spd was a better fit. Followed that with an oddball swap putting a Chev 6 into a '49 Studebaker pickup for a friend's Dad. Over the years I have done other transplants, mostly HAMB friendly, for example, a '40 Chev Coupe/SBC, '41 Chev Convt/302 GMC 6. Also a Buick V6/Jeep CJ2A and later four V6 Buick installs in OT Japanese pickups in the 70's, the last of which in 1980 was a factory turbo engine.

After I retired in 1999, as a hobby business, I rebuilt wrecked Jeep Wranglers and Cherokees, and a few Toyota pickups, to a high standard.

After a few years I phased that out and have since concentrated exclusively on HAMB friendly vehicles.....such as '55 Chrysler Windsor Poly hdtp upgrade to Hemi,'56 Studebaker Hawk repower project and a built Merc flathead in a '47 Ford Deluxe Coupe. Currently, a '50 Ford Coupe is waiting for a new OHV engine.

I most enjoy fabrication and metalwork. For instance, engine/trans/axle swaps.........suspension/steering work....frame modifications.

Interact

Signature

"In any conflict between Physics and Style, Physics always wins"

Loading...

Loading...
Register now to get rid of these ads!