Register now to get rid of these ads!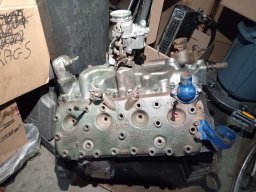 Gender:

Male

Birthday:

Mar 18, 1962

(Age: 60)

Location:

Occupation:

Car Builder
Flathead Freddie
Member, Male, 60, from Pacific Side
Freddie says , " I like HAMB " Jul 29, 2021
Flathead Freddie was last seen:

Nov 26, 2022
Loading...

Loading...

About

Gender:

Male

Birthday:

Mar 18, 1962 (Age: 60)

Location:

Occupation:

Car Builder

34 truck sold ,36 club coupe cabriolet conv. gave to crybaby relatives ,32 Tudor sedan now in building process sorry it's designed for a glass body for now . Have had numerous self built cars .

Team Gumby founded 1979

Let's see now it all started at age 4 on the school bus saw an A pickup and told everyone when I get older I'm going to get one so at 12 bought a 34 pickup basket case . Mom married into a car family when I was 5 , that giving me an array of early age variety including an uncle who designed engines for Kieth Black thru about 62 then pioneered turboing Offys then 220 c.i. turbo'ed aluminum small block Chevy's for Indy cars .
My second father ( who raised me ) Bill Rogers and his brother Jerry had in around 1960 played with a 41 Willy's at Lions . Of course Uncle Dick supplied the Indestructible Hemi he had designed for Kieth Black . Imagine a free full race Hemi that shattered neighbors windows when brought alive in the backyard . Grandma Nola told me she said , " Look , we love you both but it's ... ."
So with the sale of the Willy's Jerry bought a new 63 Stingray Split-Window and Bill got a Morris Minor Woody and a motorcycle . Two months later Jerry wrapped the Corvette around a telephone pole while impressing two neighborhood gals and after that he just drove Porsches and cop cars . The Woody Bill had was just cool and he dabbled with Austin/Healey's and MG's . Mom had bought a 66 Malibu think it's called Lemongrass Yellow so Dad painted the Woody same . We weren't rich but always seemed we had the best driveway in our area . That feat just came natural to us thru the years . Grandpa Bill Sr . was a true Cadillac owner and also that is where the 36 Club Cabriolet came yes an all original body with full 57 Thunderbird drivetrain 312 3spdOD and as a kid I love that 36 wheel so stylish and business big . I'd sit behind the wheel for hours as a young boy . Later we would convert it to 302 C4 or C6 . It also was light yellow/white top with lite brown interior and magnesium 5 spoke wheels . Later on I had it for awhile but family bickering I gave them the keys back and told them if they sell it they are stupid . I do wonder where it is now . So I got stupid family now . Back to the story Grandma and Grandpa would take me on road trips for up to 800 mile journeys me in the back seat of their latest Caddy . Road Trips Rule !!
74 that's when I became a paperboy , saving money for a horse . I also built alot of real cool plastic models and showed them competitively in IPMS model shows where I once won entering a 13 Mercer . So that is when I saw the 34 truck in disrepair in a garage on my paper route . I'd ride by thinking if I could win over adults in a modeling contest I could surely put a truck together . Then again a horse deal was drawing near also as I saved money for a horse . Then one day George Mansir who owned the truck was in the garage as I was riding by and ...
" Afternoon Mister you wouldn't wanna sell the truck do you ? "
Laughing he pointed and said , " That one there ? " ( I didn't know he had another one in hiding .
George said " Why buy a horse when you can buy 85 of them ?! "
I had just turned 12 and Wow life was real now . I was a 34 Ford Pickup basket case owner with a Ford 85 HP. Flathead V8 sitting in the bed and had a cut-up frame ! $200 bucks ! 2 years to get it roadworthy and safe then two more years for completion after finding an intact frame .

Interact

Loading...

Loading...
Register now to get rid of these ads!