Register now to get rid of these ads!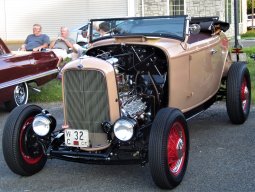 Gender:

Male

Birthday:

Jun 16, 1947

(Age: 73)

Location:

Occupation:

retired
Loading...

Loading...

About

Gender:

Male

Birthday:

Jun 16, 1947 (Age: 73)

Location:

Occupation:

retired

1932 Ford Steel Roadster with built 1933 Flathead V8
1932 Ford Five Window Coupe 24 stud Flathead.

My Dad took me to a car show in Hartford when I was 9yrs old, and a ride in my cousins 33 chev solid lifter 283 powered,when I was 14. I was hooked! I have owned and built many cars over my 63 years. Had 34 Ford roadster when I was 14. I paid $65 for it and it never got off the ground. At 16 a 55 chev with a 389 pont. eng and 4-speed at 17 a 64 super sport for 9 months (too new). Had a 1966 TR6 motorcycle for a year or so. Then 1930 Ford roadster 327 chev power, that I parked in the teachers parking lot at high school. Sold it when I got my draft notice (big mistake). Then a 52 Ford with a nailhead. At 19 a 65 vette that I drove to Calf. and back to Ct. sold it Restored a 1959 XLCH and drove that untill I sold it to buy an engagement ring! ya I know! Then built a 1932 chopped and channled 5 window with a small block vette eng 4-speed 4-11 chev rear. Had that into the early 70's and sold it to build a sedan since I was now a family man (another mistake) not the family man, (selling the coupe) to a friend (for $2,500 bucks) ya I know! He still has it and it is all apart. I am trying to buy it back but he wants me to put it back together for him. We will see. I did build a 1930 tudor (model A) frame up. Drove and showed it for 10yrs then one rainy Saturday I cut the roof off chopped it 4-1/2", took off the bumpers, louvered the hood and splash apron, and painted it black. That got sold a short while after.

The next 10yrs spent going to school events watching my family grow up and out on their own.Restored 1969 Harley CH drove it for a while and then sold it. Now with two grandkids and another on the way. I am still playing in the garage. I have had a 427 ERA Cobra for the last 12 years. It is mint, fast, and for sale. I also have a work in progress 1932 Ford roadster all steel with a 1933 flathead V8 isky cam, .20 bore, balanced, Merc crank 4" stroke. The real deal Eddie Myer heads and intake, two 97's - 39 Trans with Zephyr gearset and 32 ford rear. Hope to sell the Cobra and improve the 32.

Well did sell the Cobra and totally rebuilt the Roadster and now working on 32 Five window coupe (The Coleman Coupe)while I use it. Update: The Cobra was sold not long after joining the HAMB. I built the roadster and still have it. I also rebuilt the mechanics on the 5 window and just finished it. Now What? 67 years old and need a project. Oh my wife wants me to paint the kitchen.

Interact

Signature

"Aerodynamics are for people who can't build engines"

Enzo Ferrari

Loading...

Loading...

Loading...

Loading...
Register now to get rid of these ads!