Register now to get rid of these ads!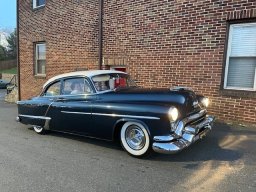 Location:

Occupation:

military/USAF Aircraft Fab. Craftsman
Colville
Member, from The Carolinas
Colville was last seen:

Aug 29, 2015
Loading...

Loading...

About

Location:

Occupation:

military/USAF Aircraft Fab. Craftsman

1953 Oldsmobile Super 88 2-door sedan

Wayfarers

Im from the state of Wilkes N.C. "land of moonshine". Growing up in Wilkesboro on the Brushy Mountains in N.C. to me was a blast. My dad worked for a welding supply company but wasnt much into cars although he liked NASCAR. I used to go to work with him as a kid and we would deliver supplies to Sterling Marlin and Bill Elliot back when they drove for Maxwell House and Budweiser. Everytime we went I got to sit in the cars or hear them run and I loved it. We also made several stops to shops all around town that were mostly car repair places and I always liked seeing all the cars getting worked on. So thats probably what started it all. I can remember from very young that I loved anything with wheels like any young boy I liked fire trucks and played with matchbox cars.

My Grandfather lived down the road from us and has a huge obsession with old cars. He has two garages full of them. Thats when I really started learning what cars were what. To name a few he has '55 chevy hardtop, '77 Black and gold Trans-am, '50 Mercury custom, '57 T-bird, '64 T-bird, '64 Vette with custom lace paint, '67 Riviera. So it was ALWAYS a blast to visit Grandma and Grandpa, I spent alot of time there and still do today. In my teenage years I took skateboarding pretty seriously but, my obsession with old cars remained. I still get out and rip it up every once in a while, but now I drive my '53 Olds to the skate spot

My first car was my Dad's '85 Nissan 720 pick-up, he bought brand new. Through my years of high school and a bit after I graduated I turned that truck into a complete custom mini truck. Yes I know most hambers are not fond of mini trucks but its all I had at the time. Gramps sure wasnt gonna let me change anything on the Merc haha. For a long time I drove and showed my Grandpas '50 merc and kept it up for him. I decided after saving up enough money in the Air Force that I would buy my own, then comes the '53 olds super 88 I purchased in 2009. I enjoyed the Hot Rod shows and the cruise ins much more than any mini truck show so it was time to have my own vintage auto. I drive my Olds almost everyday, and most road trips out of town. Later on I want to get something thats more of a project for me and my son to work on when hes older. Ive met many great friends along the way.

You will see me at most of the car shows on the east coast, and most functions or gatherings with the Iron Lords. Im not a member but those guys are like family to me, I've become pretty close friends with a few of them thanks to a great friend of mine (cookie) that introduced me to them. Feel free to come up and say hi if you see me out, always down to make new friends. Cheers!

Interact

Loading...

Loading...

Loading...
Register now to get rid of these ads!