Register now to get rid of these ads!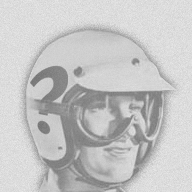 Location:

Occupation:

Retired fabricator @ Barris Kustom
Loading...

Loading...

About

Location:

Occupation:

Retired fabricator @ Barris Kustom

Fords:27 T Coupe-nailhead, 27 T Roadster-nailhead, 24 Track T-nailhead, 29 Tudor-original, 29 Closed Cab pickup-nailhead )

Early Riders

As a teenager lived in Van Nuys just 3 blocks from Bob's Big Boy. The local Hot Rodders were Norm Grabowski with a newly built T bucket, Skip Torgeson rebuilding a 27 roadster built in the 40's, Tom McCourry and his friend that was too young to drive Don Prudhomme, Larry Dixon(now called Larry Sr.) Tommy Ivo just starting to built a T bucket inspired by Grabowski's.
Local hang outs were Tony Nancy's Upholstery shop, Valley Custom, B & M Hydro and the San Fernando Drag Strip. Barris Kustom was still in Lynwood. Kent Fuller hadn't arrived yet and Don Prudhome was a year ahead of me at Van Nuys Jr. High School. McCourry had a 35 or 36 3 window and used to pick up Prudhomme after school. Friday and Saturday nights Prudhomme used to consistently win the speed skating contest at the Van Nuys roller rink. The $10.00 prize money bought gas for McCoury's Coupe and Burgers at Bob"s Big Boy. Van Nuys was the hub of Hot Rodding in the mid fifties and inspired numerous now famous Hot Rodders.
A few years later Prudhomme bought a partially completed 27 Roadster from Valley Custom, put a nail head in it, got it running and Upholstered at Tony Nancy's shop, met Ivo at Fuller's Shop next to Tony Nancy's Shop, had the chance to buy Ivo's single engine draster so he sold the just completed 27 roadster to a guy named Phil. Prudhomme proceeded to learn drag race at San Fernando Drags. Phil showed the roadster, tired of it, then a good friend named Dale Gould told me about Phil's roadster being for sale. I bought it re-did it, won first place at the Winter Nationals Car Show. Barris saw it, contacted me and asked me to work at Barris Kustom. That's the long version of how I got interested in Hot Rods and Customs. Now it's time to go back and relive those great moments in Hot Rodding.

Interact

Loading...

Loading...
Register now to get rid of these ads!