Register now to get rid of these ads!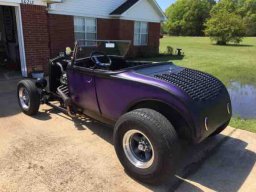 Gender:

Male

Birthday:

Nov 10, 1959

(Age: 63)

Location:

Occupation:

Mississippi River Towboat Captain..
Loading...

Loading...

About

Gender:

Male

Birthday:

Nov 10, 1959 (Age: 63)

Location:

Occupation:

Mississippi River Towboat Captain..

1930 Ford Model A Roadster

Rusty Pile O Shit Car Club

Ive been accused of a lot of things in my life , ranging from adultery (not true)
to sexual harrassment (true but with an explanation), to tax evasion (i plead the 5th)
but resently i was accused of something that i never would have exspected.
i was accused of being insensitive , i was told that i was not a nice guy..

this is simply not true , im a hell of a nice guy , im the first to go out of my way
to compliment a woman with really nice hooters , im the first one to offer encouraging
words to the grossly overweight and ugly , why just the other day i helped out a
beast of a woman by telling her that she'd get laughed at a lot less if she'd just
quit going out in public or at least drape herself with a truck tarp or something..
like i said im a nice guy..

but apparently being nice is'nt good enough..
nowadays you have to be politically correct , your exspected to be empathetic.
to put yourself in other peoples shoes before you shoot your mouth off.
to see the world as they see it . now i dont know about you , but there are a
lot of people who's shoes i dont want to be in like the guy down the road that
barks at cars and spits at you if you dont give him money..

i gotta tell ya , i hope im not anywhere near this guys shoes when he shakes
his last raisen out of the box , ive got enough bats in my own belfry
without dealing with someone elses..
the older i get the more difficult i find it to keep up with the way im exspected
to act and feel , maybe im a bit of a dinasaur , maybe im not nice all the time
maybe i dont shed a tear for every asshole in the world.
maybe my beliefs are a bit dated , i dont know , i find it hard not to offend
people because everybody is so damned touchy , it seems like what you believe
does'nt matter whats important is that you dont hurt anyones feelings..

well thats the short version of all that i hold true and its up to you to try and figure out if im actually a nice guy , not that i give a shit what anyone thinks of me but you never know when the subject might come up in conversation..
next time somebody asks "hey are you an asshole or what?" this nice fuckin guy would like to be able to give an accurate answer..

all that being said i have been into cars for as far back as i can remember my dad was a 50s and 60s drag racer as well as my uncles . i have owned several cars over the period of 34 years some nice some not so nice . i am Tattooed biker trash and have been one my entire adult life got my first harley (47 knucklehead) at the age of 15 and still ride to this day every chance i get rain or shine when im not boating on the rivers of the central United States..
i am the daddy of six heathins and the grandaddy of three beautiful brats , i have been a licensed united states merchant marine officer 1980 to present . im a cajun by birth and a veteran of the U.S. Army and all around really nice fuckin guy!..

Interact

Signature

When The Shit hits The Fan It Will Not Be Evenly Distributed!

Loading...

Loading...

Loading...
Register now to get rid of these ads!