Register now to get rid of these ads!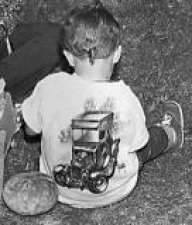 Home Page:

Location:

Occupation:

Art Director/Graphic Designer
Loading...

Loading...

About

Home Page:

Location:

Occupation:

Art Director/Graphic Designer

'32 Ford 5-Window Coupe
'27 T Coupe "Bad News"
'60 Ford Starliner
'67 Bug

Burbank Choppers

I was kinda born into the hot rod world. My dad (Alan) finished his '24 T coupe in the early '60s which he still drives today along with his '29 Roadster. They have both been featured in R&C (The T has been featured twice). My Mom (Myra) & step dad Jim have also played a big part in my automotive upbringing. They just finished redoing my mom's '61 Porsche 356B that she has owned since 1963.

My Aunt and Uncle are well known Artist/Hot Rodder's, Robert and Suzanne Williams.

In my early 20s (back in the late '80s) I started getting really into early style hot rods and customs. This led me to meeting a small group of guys in the Los Angeles area that were into the same thing as me; art, music, hot rods, custom cars, swap meets, skateboarding and collecting old cool stuff. This tight knit group became the Chislers who later became the Choppers.

You might know me or my name from a number of things. I'm a member of the Burbank Choppers Hot Rod & Kustom Club. I've been involved with a few book projects, including the Green Rat Fink/Ed Roth book and also Von Dutch; An American Original. I've also contributed, written, photographed and designed for a bunch of different car mags since the late '80s. A very proud moment in my hot rod life was co-curating the first ever gallery exhibition of Von Dutch's work.

You might have even caught my mug on TV or a DVD. The most special moment in my car club life was the building of my '27 T coupe for the TLC series "Rides." Although the Episode (first aired in 2004) was titled "Rat Rods" it should have been called something like, "The Burbank Choppers build Bad News." I can never thank my club enough for being under the gun for two months, while being filmed, building the car that I have owned since 1971 when I was 5 years old.

My current day job is Art Director for Rod & Custom, Street Rodder Premium (SRP) and R&C Little Pages magazines. I am also a Writer/Researcher/Historian for the mags.

When I'm not spending time with my family, skating, collecting and selling old stuff or sleeping I live eat and breath early style hot rods and customs.

Interact

Loading...

Loading...
Register now to get rid of these ads!