Register now to get rid of these ads!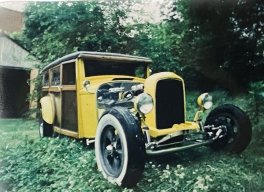 32FordWoody
Member, Female
On the hunt to compile all of the information about John Goods 1932 Ford Woody Wagon.If you have any photos, videos, or memories let me know Sep 30, 2022
Loading...

Loading...

About

Gender:

Female

1932 Ford Woody Wagon - John A. Good

On the hunt to compile all of the information about John A. Goods 1932 Ford Woody Wagon.

If you have any photos, videos, or memories, please let me know!

Originally built by John A. Good from Exeter, PA of the Philadelphia modifiers, a collaboration with Hanks Speed Shop of Berwyn, PA. It was featured in 5 magazines and the cover of one that I know of. It won many trophies for go and show. It has a vast history behind it and I'm searching for absolutely anything related to it for a very big project!

Thank you isn't enough to express how much I appreciate any information.


Cover & Centerfold article " HOT WAGON " of the August 1957 Rodding & Restyling below. (Pages 34-35)​


COCKPIT - Ford floor shift transmission with 25-tooth gears operates off 10-1b aluminum flywheel, 11-inch Ford clutch. Interior is luxuriously fitted, exterior carries 17 coats of green lacquer!

SHOWPIECE - Just a few of the recent awards won by Good's wagon at shows and drags, including an R & R first at the Lancaster show (that tall trophy in the center). Body is hand-built, hand-rubbed mahog-any. Entire car was constructed by Johnny himself.

HOT WAGON

Unique! That's the only word for this chopped 1932 Ford station wagon. It's been timed at 108.9 on the strip

Photos by H. E. Genthir

BARGAIN- John A. Good, 21, of Exeter, Pa., bought his deuce wagon for $50, spent $1450 to make it a winner not only at shows but at drags. Engine is bored to 354 cubes, ported, polished, fitted with Johns racing pistons, Chrysler 9.5 to 1 heads, Edmunds 4-pot manifold-delivers 325 horses at flywheel, 270 brake hp.

Body is chopped, frame channeled.

Dash carries complete set of Stewart Warner gauges. Front suspension and brakes are '41 Lincoln, rears are '40 Ford. Torque tube drives 15-inch Ford wheels.

​

Centerfold article " HOT BOX " of the March 1959 Hot Rod magazine below. (Pages 48-49)​

West Chester, PA

'53 Chrysler engine was bored to 3-15/16 inches to use Jahns pistons, raising displacement to 354 cubic inches. Four Stromberg #48 carbs were adapted to Edmunds manifold. Cam is stock 300. Albro clutch takes power to Zephyr box.

Rod is handiwork of John Good and his father, who completely rebuilt wooden portion of '32 Ford station wagon body. Filled '32 shell conceals '53 Buick radiator, fitted ahead of tubular crossmember. Front axle spring - 1948

"HOT BOX"

Square to be sure, this solid mahogany

Not only one of the faster station wagons, this is one of the lowest, too. Six-inch channel job over '32 frame positions the bobbed rear fenders just right in relation to the 8.20 x 15 rear tires. In the process of rebuilding the body, John's' dad took 3 inches out of the top, incorporated an integral roll bar. Timberline Green lacquer completes "woodsy" aspect of the project.

Wagon makes mighty combustible kindlin' at the quarter-mile drags - 109 mph!

Photos by Woody Higgins

Bell Auto championship-style steering wheel atop the chrome column provides contrast with veneer-covered dash. Upholstery, green and white Naugahyde. Late model Ford parts used to convert brake and clutch actuation to modern pendulum pedals.

Wagon's white nylon covered top is only 55 inches high. Simplicity of its lines are kept pure with unobtrusive 49 Pontiac taillights. Since completing the car in '56, John Good has acquired 18 trophies with it, both for show and go. HRM staff heard of car when NHRA Drag Safari crew returned from '56 tour raving about "crazy dragster that's still in the crate.


Centerfold article " WILD WILD WOODY " of the April 1965 Car Craft magazine. (Pages 38-39)​

Famed speed shop owner Hank Weiden-hammer took a fancy to the old '32 Ford woody station wagon and decided to try his hand at some custom-type reconditioning. $3.000 later, here's Hank's "wildy"

Mounted on the '32 chassis, boxed, the car has a special built front suspension setup. Dropped front axle is by Lynwood Welding. Steering gear is from a '48 ford.

Woodwork was handled by John Goode, working with Mahogany. Special measures had to be taken for a "chop & channel" job. '51 Pontiac taillights are at rear.

After making them go for years, Hank's Speed shop decided to take on the show circuit. The outcome is this award-winning…

" WILD WILD WOODY "

Berwyn, Pennsylvania

Hank dropped in a 283 'Vette mill with an Offy intake supporting two 4-bbl carbs. Flywheel is Schiefer aluminum; clutch is an 11-inch Weber. The Offy adaptor hooks mill to a '39 Ford tranny

Just how effective the "chop job" was is evident in this photo, with Hank standing alongside his low-slung woody. He's been successful - it's first showing netted People's Choice, Best Engine.

The metal part of the body was finished in royal blue lacquer by Conestoga Auto Body. Halibrand rear wheels mount Racemasters: at front are American Racing, Pirelli's on. Headers at Hedman.

Photos by Woody Higgins

Clean, functional interior includes blue and white Naugahyde stitch work by George Hankle of Wayne, Pa. Instrument panel has Stewart-Warner ensemble. The sharp steering wheel is by Covico.

​

Interact

Loading...

Loading...
Register now to get rid of these ads!