Old No. Eighty Seven
You know how you see certain cars and they just kind of leave a blueprint in your head? This might be another part of my often mentioned sickness, but this happens to me a lot. It's kind of off the cuff – I won't remember where I saw it, who owned it, or what is what… But I will remember a profile or a stance or whatever it is that makes the car in my mind's eye.
Here's a perfect example. When I think of a Bonneville A-roadster, I always think of Gerald Peek's car first. Gerald's car ran on the salt in the 1960's, but I don't believe the car was responsible for any records. I first saw the car in a picture featured on the AHRF website awhile back and that, in turn, lead to lots of research. The silhouette of the long nose sweeping back into the tonneau cover and the line into the early dragster style roll bar just makes me weak in the knees. It's perfect.
In any case, I didn't find much in my search. In fact, all I really found was the November, 1969 cover of Hot Rod Magazine. Does anyone out there have anything at all further on the Peek roadster? This one needs some attention.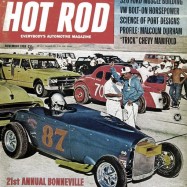 ………………..
93

Comments on the H.A.M.B.