1955 Oldsmobile Delta Concept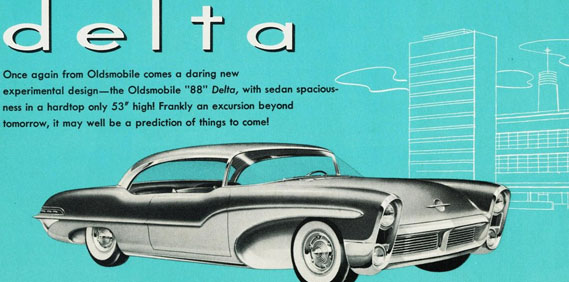 This is one 50s GM dream car that is often overlooked in the books, but its one of my favorites. The '55 Delta concept was a hardtop coupe that stood just fifty-three inches high, mounted on a 120 inch wheelbase, from what was most likely a modified production 88 chassis. Like many GM dream cars of the Motorama years, the two tone blue Delta had some radical concept ideas that became pretty much common place in various vehicles in the years to come: Quad headlamps, dual fuel tanks in the rear fenders for better weight balance, cast-aluminum wheels, anodized aluminum trim, and a full length center console for radio controls and extra storage. Styling was very Harley Earl, yet fairly subdued in its chrome trim, and featured the greenhouse dip beltline that would show up across much of the GM hardtop line by 1957-58. I think the Delta is a pretty sweet looking custom, and it's a real shame that this low-slung beauty (like most Detroit concept cars of this era), was probably destroyed.
22

Comments on the H.A.M.B.