Lewistown, Montana… Drag Racing in 1959.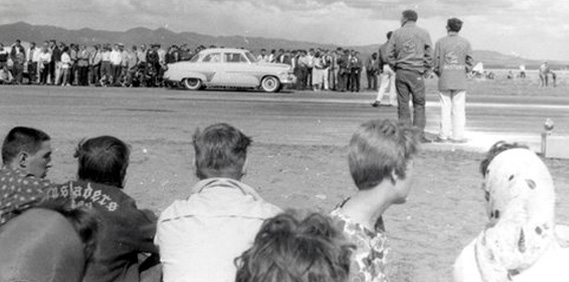 I've been through Lewistown, Montana before. It's a tiny little town with a tiny population and if not for the well cared-for buildings that spec the streets, it could easily be mistaken for a ghost town. There just doesn't seem to be a ton going on there and it's hard to imagine that there ever was. You would certainly never imagine much hot rod activity, much less a drag strip.
But oddly enough, Lewistown was a bit of a hot rod hotbed in the late 1950's and into the 1960's. The airport wasn't getting a ton of use, so they turned it into a drag strip for race day… and the people came from all over Montana to see the action.
The story of a small drag strip doing well in this era is nothing new. Wally Parks was working damned hard to popularize the sport all over the country and his work wasn't going unrewarded. But what makes Lewistown so neat is all of the video that was taken at the track and the history that was preserved. A random user on YouTube has recently posted quite a bit of footage, but isn't allowing the use of it by outside sources. As such, I'm stuck with simply linking to the video.
Enjoy:
– Lewistown in 1959. Coincidently, have you ever heard a worse cover of Johnny B. Good?
There were certainly a lot of "stockers" running at Lewistown and that's to be expected. But I was amazed to see many hot rods tear down the track as well. Can you imagine being a 17 year old kid with an a-v8 coupe in the middle of Montana?
I can imagine the speed records that would be broken on the unmonitored highways!
……………….
52

Comments on the H.A.M.B.