1960's Show Rod Postcards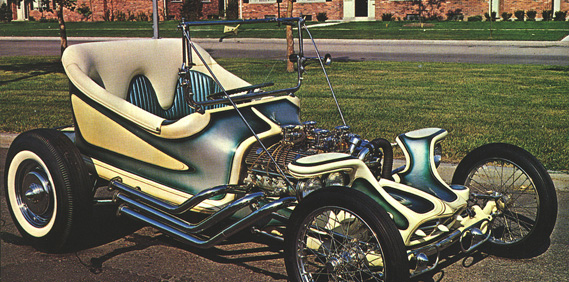 I've never felt an allegiance to the 1960's era show rods. Sure there are one or two that I can appreciate, but for the most part they just aren't my thing. I'm a "function creates form" kind of guy and feel like the opposite approach leads to cliche – form leads to theme which leads to commercialization which leads to irrationality… and on we go. It's a downward spiral.
That's just my opinion. I realize that most folks around here disagree with me and I dig on that spice. And as such, figured I should feed it every now and then. Our boy Coop sent over a link last night to his latest Flickr set that features scans from his collection of postcards. Most of them were printed and sold by Promotions Inc. – Bob Larivees' outfit that put on a lot of regional car shows in the 1960's.
Here's a selection from Coop:
To check out Coop's entire collection, click here.
40

Comments on the H.A.M.B.