Back Seat Betty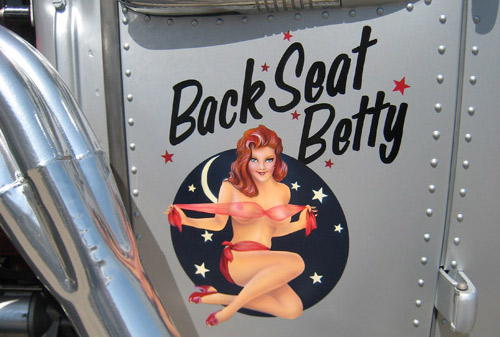 Theme cars are a risky business for sure. It's easy to lose sight on just what a hot rod is in an effort to work in that last design idea or cue… and when those ideas are taken too far or too literally, you are often left with a car that looks more at home on the Discovery Channel than it does in the hot rod or custom world. A risky business for sure…
It's with those risks in mind that the fellas over at Hot Rod Chassis & Cycle present you with Back Seat Betty – a WW2 aircraft themed model-a coupe. This is the type of car that is gonna split people into camps – people that absolutely love the creativity and thought that went into implementing the theme and purists that just can't find the relevancy. Regardless of what camp you are in, I think it's pretty tough to argue the details independently and the craftsmanship throughout.
From the outside, this car is dominated by three features. The first and most obvious is the unusual choice for a grille shell. The 1937 Plymouth shell is big and matched nicely with the large torpedo headlights. Together, they kind of emulate a fighter plane's front-heavy profile. This isn't a package that would work on most small coupes, but this little car pulls it off gracefully.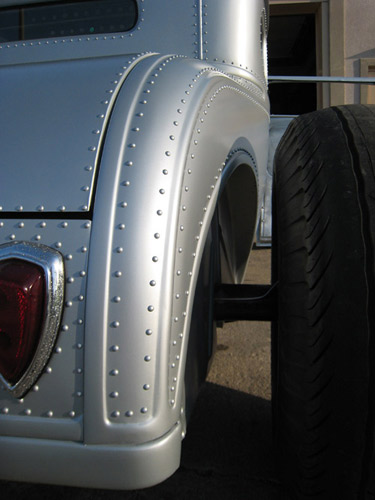 Then there is the body… Every panel has been worked (the top and deck lid are actually redone in aluminum), painted silver, and outlined with aircraft style rivets. The time invested here has got to be outrageous, but the reward is certainly inspiring. I'm not crazy about what appears to be faux machine gun barrels and casings riveted to the cowl (Edit: turns out these are actually marker lights off a Buick and house turn signals set up like recognition lights – one side red, one side green), but one can't argue the craftsmanship behind such handy punch work.
Finally, there are the roof inserts. The fellas over at HRCC filled the stock model-a top and then proceeded to work in some tinted plexi to imitate the fighter look-outs often found on era bombers. If you have spent much time at air shows, you are familiar with the soft light that protrudes through these look-outs to paint the interior with a light shade of bluish green.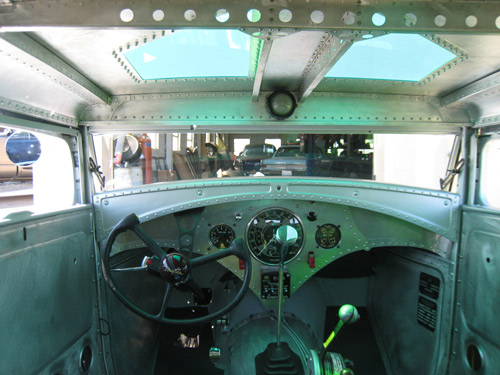 And that leads us to the part of the car that interests me the most – the interior. I mentioned earlier that studying theme cars is all about the details and what we can learn from them. The dash on this car is one of those details that really caught my eye. After removing the stock gas tank, a new dash was created out of aluminum that houses a huge center mounted speedo flanked by two aircraft accessory gauges and various switches and indicators. The obvious intention here was to emulate a fighter's cockpit but I think the look could just as easily be sold as "early sports car". Either way, I love the idea…
The dash is complimented by various aircraft parts such as P47 throttle levers, a Douglas steering wheel, tags, jump lights, bomber seats, etc… The owner wanted the interior to feel like that of a B25 Mitchell and that's exactly what he got – green glow and all. Which leads me right back to those roofs inserts we spoke about earlier. To pull these off in the interior, HRCC built some amazing roof supports using riveted aluminum beam construction as commonly found in aircraft. These beams along with the complimenting aluminum door panels and garnish moldings make up the most impressive fabrication work on the car – all of which are absolutely gorgeously done.
When it's all said and done, you end up with a hot rod that's just as much to drive as it is to look at… And isn't that what it is all about?
136

Comments on the H.A.M.B.