Railton Special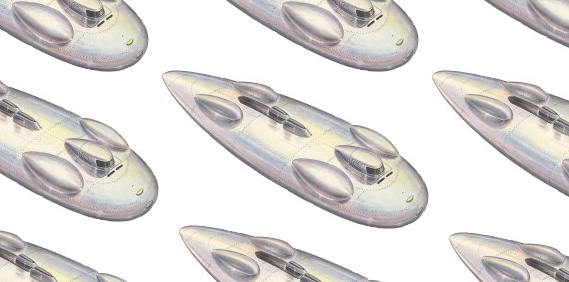 I just finished reading an old MotorTrend article that explored the design of modern race cars. More specifically, they were trying to pick the most beautiful shapes created in the past ten years (I believe the article was published in 1994). Most of their selections were warranted and included masterpieces from all over the world. However, I was a bit surprised that the Railton Special didn't make the list.
Most of you know the story of the Railton Special… It was a British build that was piloted by the legendary John Cobb. The car first ran in 1938 and broke the Land Speed World Record with a 353 mph run. In 1939, Cobb and the Railton Special broke their own record with a 369 mph run. After WWII, Mobil Oil injected some cash into the project and Cobb gave it another go with an eye on 400 mph. While the car did run over 400 mph in a measured distance, its two way average was just over 394 mph – another World Record for 1947.
Powering all of these huge numbers was two supercharged W12 Napier Lion aircraft engines. While it might look as sleek as a bullet, the damned thing weighed over 3 tons and was almost 29′ long. The Railton Special was HUGE!
Even so, there is no denying the lines originally penned by Reid Railton. This is one gorgeous car.
The car now sits at the ThinkTank Museum in England…
36

Comments on the H.A.M.B.