The Rex Rod & Chassis Digger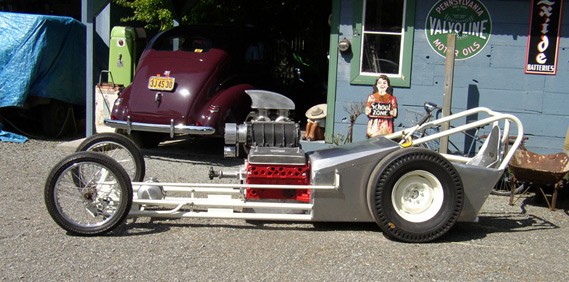 Introducing the Rex Rod & Chassis Digger… We hinted around about this a few years ago, but life got in the way and plans stalled a bit. Recently, my brother Keith locked himself in the shop, flushed the keys down the toilet, and committed himself to making it happen. And like anything Keith does, it's done right… right down to the last damned detail.
The founding thought behind the Rex Rod & Chassis Digger is based around the venerable Chassis Research design of the 1950's. Essentially, Keith took the best aspects of the TE442 and the TE448 and created a dragster chassis that is a little longer, wider, and taller than the originals. As a result, a modern American fat ass can fit in these with ease… and hell, you can even run a starter if you are so inclined. Still, with the 101-inch wheelbase the proportions are kept where they should be. This thing looks right.
Anyway, Keith is ready to take orders. A bare chassis will run ya around $2000 and he'll even build ya a "turn key" starting at around $15,000. Obviously, this a project spawned from passion, not from capitalism. If we can get three or four built and committed to the HAMB Drags, we will even get a class up and running for them. I can't imagine anything more fun than watching a couple of these cars taking pot shots at each other as they roar down the 1/4 mile. Can you?
Rad.
For more details or to order your own, contact Keith.
98

Comments on the H.A.M.B.