RIP: Bill Collins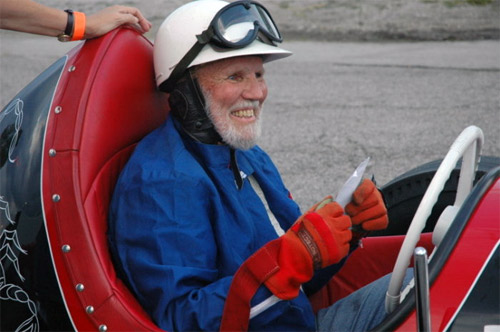 It was about this time last year when I got a letter in the mail from Bill. He included photos of the Scorpion Dragster and wanted to know if it would be alright if him and his partner (Don Ross) attended the H.A.M.B. Drags. Of course, it just took one glance at the Scorpion before I knew that those folks HAD to be a the drags. The car was perfect in just about every way imagineable.
Anyone that attended the race, knows the rest of the story… The Scorpion team showed up, made some passes, and made a lasting impression on everyone. Put frankly, these were older guys that knew how it should be done. They built a museum quality dragster with every attention to detail possible and weren't afraid to flog the shit out of it afterwards. I loved them for it.
Yesterday, word got out that Bill passed away. Of course, my first reaction was one of sadness. I didn't hardly know Bill at all, only spoke to him a few times, but he was one of us and we don't like losing members… Then, I saw the photo his partner Don posted that was actually taken by Wylee Coyte (see lead photo).
The expression on Bill's face helped me realize there is no reason for sadness in this case. Bill had it figured out man. That one photo captures absolute elation from a man in his senior years doing what he loves most. We should all be so lucky…
36

Comments on the H.A.M.B.