Plastic Toy Hot Rods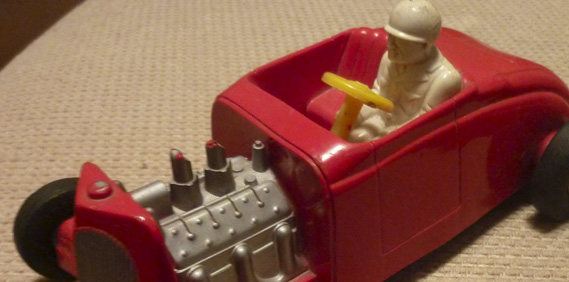 I just got back from the Toy Fair in NYC, for work. One thing I really enjoyed checking out was all the die cast cars from 1/64 all the way up to 1/16. Since the late 60s, die cast has been about the only option for most detailed toy cars aimed at older boys and up. Plastic is sort of reserved for the little kid, low detail vehicles or for radio controlled stuff. I really think a golden era for scale toy cars was the late 40s through the 60s when bakelite and early plastics brought cost down and durability up. There are some fantastic die cast cars from this era as well, but those were treated more like "outdoor" toys. The pressed tin toys were really nice too.
When I got home from New York, I pulled a few of my favorite vintage plastic hot rod toys off the shelf just to see what I love about them so much. They don't have laser sounds, color change paint, or robot transformer abilities. You just need your imagination and some self-produced engine sounds to have a good time with these babies… What a novel concept.
Obviously red was a popular toy car color:
78

Comments on the H.A.M.B.