The Unknown Roadster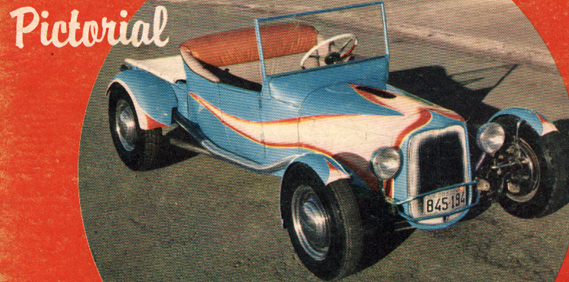 In the May, 1956 issue of Rod & Custom Magazine the fellas at Quinn Publications featured a 'T' roadster built by Bud Parham of Portland, Oregon. Even though the car made the cover of that very issue, I'm willing to bet that most of you have never seen it before. It's one of those cars that just kind of fell through the cracks of history. Maybe it just wasn't flashy enough to garner the attention needed to make a lasting memory. Or maybe it was just built and featured after its time… Whatever the case may be, I love casual hot rods and Bud's little T-P-U is a perfect example in my book.
First things first – let's get past the paint job. Sure, it's novel given history and the gumption it took the owner to spray it himself, but lets be honest – it's also ugly and at least from the images we have today, it looks poorly done even by 1956 standards. So just get past it… Ignore it. Move on.
It's rare to see a 'T' with nice flowing lines and an athletic stance that hasn't been cut and hacked into a modified roadster. Bud pulled it off by using a set of model-a rails with a subtle z-job out back. That frame set the stage for a perfect rubber rake done with what appears to be 7.50-16 rears and 5.50/75-16 fronts. From there, it's just detail work… The model-a truck bed was shortened just the right amount, the deuce shell was cut perfectly to mate the hood and hood sides with the cowl, and the fenders are oh-so tastefully integrated. Still, my favorite creative touch is the headers. I'm in love with their shape and their direction – the way they gracefully sweep down the frame rail, into the fender, and out the back… RAD.
Enjoy Bud's roadster for the first time… or again if you were lucky enough to notice it the first time around.
…………
16

Comments on the H.A.M.B.