1955 Kurtis 500KK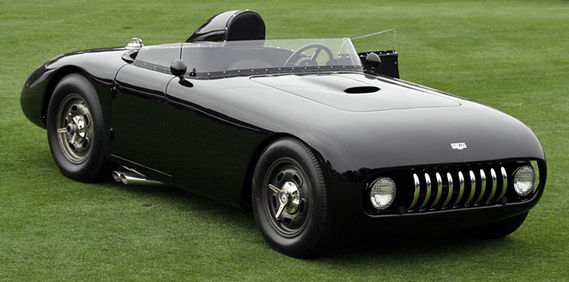 A week ago, Mr. Kellogg told the story of Tommy Lee and his extravagant roadster built by Frank Kurtis. Frank got his start at Don Lee Cadillac, but it wasn't long before he struck out on his own and dedicated 100% of his time to building cars in a little shop behind his house. It was in that little garage that Frank built many of his earlier creations (including Tommy's car), but in 1939 he made the trek to Indianapolis. Everything changed.
Initially, he worked as a general mechanic helping out teams with repairs and mechanicals. However, in 1941 he entered a car of his own design with Sam Hanks behind the wheel. The car barely made the field and did not start due to mechanical issues, but Frank was hooked. The war interrupted this fascination until 1947, but he was quick to get back in the game. In 1948, Frank entered another car (Kurtis-Kraft Special) and this time saw a second place finish. The next year, Frank got his win with the Wynn's Oil Special.
By this time, Frank had the reputation of a speed genius and quickly worked to capitalize off of it by offering a production road car to the public. He built 36 cars and sold them all before selling the company to Earl Muntz. Frank saw limited financial success, but a learned a ton from the ordeal.
In 1953, another one of his cars took Indy and Frank decided that the chassis of this winner would be the perfect foundation for a sports car. It was a round tube skeleton type frame supported fore and aft by a torsion bar suspension of Frank's own design. The body was fiberglass. The public could buy each in kit form… Frank called it the Kurtis 500KK.
Chassis MKK58 was sent to Jack Sutton in California. Jack and his pals expertly formed an aluminum body for the car and then ran out of steam. It was then purchased by Jack Ensley (successful Sebring driver) who installed an injected small block and a 4-speed in hopes of entering the car in the 1958 Road America event. He missed his deadline, lost interest, and the car was sold yet again.
Through the early 60's, the car was raced at a few California road events by folks none of us have heard of. Eventually, the car was retired and restored to the condition you see now. In my mind, it's the perfect American sports car.
Enjoy perfection:
31

Comments on the H.A.M.B.