Avenue Barber Shop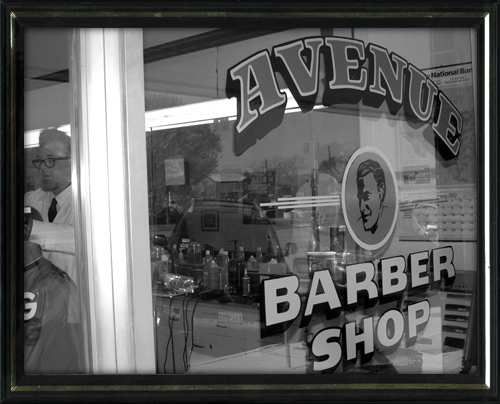 As a hot rod guy, one of the best things about Austin, TX is the seemingly endless list of venues full of people with like mind. There's the Continental Club for drinks, Lucky's for more, Guero's for grub, Flyrite for bench racing, Sawyer Ranch for living, the hills for driving… It's a list that could literally go on forever and as of a couple of months ago, you can add one more spot – Avenue Barber Shop.
First and foremost, it's a men's joint. You walk into a classically white setting – bullshittin' chairs on your left, business chairs on your right. There's a few magazine racks here and there where you can pick up and thumb through the latest copy of The Rodders Journal, Playboy, Hot Rod, or even some of the more lowbrow pubs like Dice. It all adds up to a vibe that feels very much like a barber shop of old must have felt.
Then there's the help… Big Kevin Lemoine and Mad Max man the vintage barber chairs in style, wearing the traditional all white lab coats and using the old methods and tools our grand fathers cherished. Get a full faced shave with a real razor, the perfect high and tight, or just a trim. Your ears are safe at Avenue… These boys are good at what they do.
Of course, one of Kevin and Max's most important roles is that of a moderator. Sit down in a chair, take a load off, and discuss the important matters in life. Who's the better fighter – Ali or Frazier? What are the pros and cons of running a t-5 behind your flathead rather than the '40 gear grinder? Whose project is getting close? Whose project will never get close? These guys are like doctors – they are experts in just about every field and everything is fair game.
Maybe I'm just a sentimental bastard, but I feel places like Avenue should be called out a little more in this modern age. And when you got good hot rodders running a joint like this, why shouldn't it be The Jalopy Journal making a call out or two? I'm thinking Avenue might be the perfect spot to do a monthly Saturday morning hot rod run for a haircut. I know I'm in and already participating… Who else needs their ears lowered?