All Aluminum, Hand Built, Ferrari V-12 Powered = Breathtaking.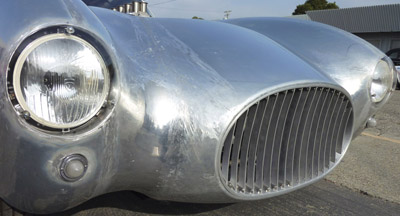 I recently attended a Holiday Pig Roast and Car show in the Bay Area, and this little beauty (still under construction) from Steve Moal's shop showed up. The few details that I know are pretty tasty, indeed: The car features monocoque construction and the frame is all riveted panels, with structural rigidity supposedly on spec with a NASCAR. The V-12 drivetrain is sourced from a 1964 Ferrari GT 250, and the hand-fabricated body was formed on an English wheel, Eckold metal shaper and a Yoder! The quality and detail of the build so far is really beyond beautiful. Can't wait to see the hood, gauges, and interior bits come together on this breathtaking ride…
74

Comments on the H.A.M.B.