Honeymoon Hot Rod
Jerry and Lorraine Eisert were engaged in 1951 and scheduled to be married in the spring of 1952. Lorraine wanted the perfect wedding with the right colors, the right people, the right church, etc… It was her day and it was to be calculated to perfection. Of course, Jerry had ideas to. The wedding was Lorraine's, but the honeymoon was his… And he had big ideas.
Soon after Jerry met his engagement obligations, he started to work on what would be the couple's charriot to their honeymoon – a '34 Ford roadster. In seven months time, he built the "coral flame" red roadster featuring a full race 295-inch Merc motor, '40 box and rear, and Lincoln brakes. It was all rapped up with a perfect stance and a smooth and clean body. The result is a subtle car focusing on both comfort and performance.
Jerry got his day in May of 1953 when Hot Rod Magazine featured his baby. Check it out: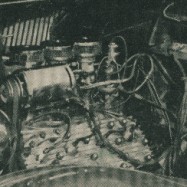 Now, here's the fun part – Apparently, this little roadster has been found in near unmolested and mint condition. Details as I get them.
……………..
37

Comments on the H.A.M.B.