Buenos Aires to New York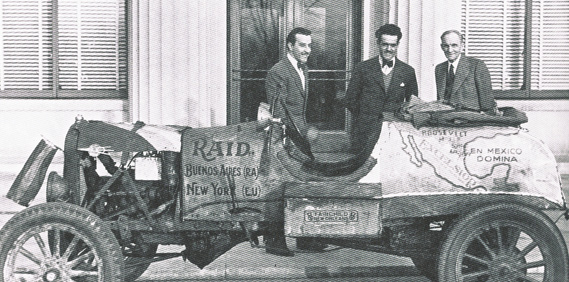 This is pretty bitchin'. In 1941, two Argentineans got a hair up their asses to drive their model-t speedster from Buenos Aires to New York. They gathered some dough from some sponsors like Excelsior, Fairchild, and Raid, packed their little speedster up, and headed north. The journey was as you would expect it to be. It took the fellas weeks of battling flat tires, mechanical failures, and border crossing politics to make it all the way up to New York. Once there, they partied like Argentineans and then prepared to drive all the way back home.
Before heading south, however, our two heros decided that it would be prudent to stop in Detroit and shake the hand of the man that made their journey possible – Henry Ford. They pulled right up in front of Ford, walked inside, and asked for Henry. You can only imagine the look on the receptionist's face. One way or another though, the fellas succeeded. The cranky ole Henry Ford made his way down from his top floor office and hung out long enough for the Argentineans to get their picture taken with him. Here's proof:
No word on whether or not our men made it all the way home.
30

Comments on the H.A.M.B.