A Look Back: Hot Box
A few years ago, we had a member on the H.A.M.B. attempt something like this. He took an early Ford cowl and cobbled together a wood body as best he could. The outcome, in my opinion, was less than attractive but the idea really intrigued me.
I was thumbing through a stack of old magazines and found these clippings floating around. I'm about 99% sure they came from a Hot Rod Magazine and just by looking at the wheel and tire combination, I'd guess it was a pre-1960 issue – most likely a '58 or '59.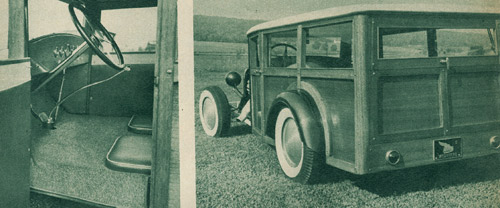 I've always felt like there was a certain goofiness to the late 50's/early 60's style and you can see some of that here. The nerf bar up front is down right clumsy and the headers aren't quite finished, but look past those blemishes and you'll find a pretty smart hot rod. The little Hemi appears to be very well detailed, the interior is simple and sano, and the stance couldn't be tuned much more at all.
It all just works… and it works with that crazy little body. It looks as though the builder started with a '32 cowl and built the rest with a table saw, some glue, and some nails. The result is a quirky little car with a coolness factor higher than most and at a cost much lower than just about any '32 on the lot.
It's pretty easy to visualize yourself in this one cruising down a Kauai blacktop with the hatch glass cracked just enough for your long board to hang out in the wind… isn't it?