For Speed & Mileage…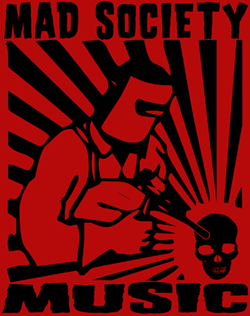 I live 36 minutes from my office. This morning I decided those 36 minutes would be best spent behind the wheel of my '38 Ford coupe. Under most circumstances I let the exhaust notes from the tuned small block fill my ears with music, but this morning was different. Evel sent me a copy of the latest Mad Society Music album and I hadn't spun it yet.
Headed east on 290 spinning Evel's latest is a possessing experience. While Bleed screamed about what is his, I began to realize that 4th gear has gone neglected for too long and it was time to use it. Really use it. At 6700 RPM, I was at the 'Y' on Oakhill in minutes and the South Congress exit just a tad later.
Most of the tunes on the Mad Fabricator's Society sound track feel like surf punk – really quick and light guitar riffs with punk vocals. I don't really know who is taking the licks, but I do know they are possessing me and my little coupe. The tunes are taking this thirty something (fuck!), dot com-er, and father of one and turning him into an outright hoodlum with no respect for anything civilized or lawful.
Triple digit speeds on South Congress make Guero's and the Continental Club seem like they are on the same block. Triple digit speeds on South Congress is above and beyond irresponsible. At these speeds, "hell on wheels" is no longer a cliche.
Up the parking garage ramp, through the first four parking levels, find a spot, cut the motor, grab the parking brake, dump the bags, check the clock… 21 minutes.
Mad Society Music – for speed and mileage.