Reno Air Races… On the Bucket List?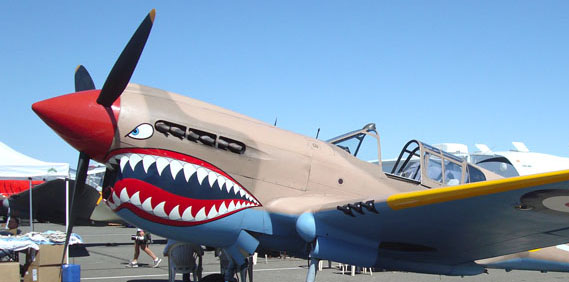 Alright, so it may not be 100% on topic with old cars, but you've got to admit that real warbirds are right up there with the very best of the other vintage mechanical stuff we drool over. I just got back from my first time at the Reno Air Races, and words cannot truly describe how amazing it was. I've never been much of an aircraft nut, but you'd have to be dead to not get excited at this deal. The first thing I encountered was a pack of P40 Warhawks and P51 Mustangs going in a tight pack around the pylons at full throttle. The intense sound of those WWII Merlins buzzing a few feet off the ground is jaw-dropping to say the least. Soon after the heat was over, I was off to the pits & display area where a Corsair, P38 Lightning, T-6 trainers, and restored vintage radial aircraft from the teens through the 50s were scattered about.
You want more hot rod inspiration? How about old leather flyer caps, goggles, 40s gauges, division patches and tons of reference materials being sold by vendors? I was also honored to meet two iconic fighter aces of the war on the same day: Triple ace P51 pilot C.E. "Bud" Anderson and aviation legend Bob Hoover, who flew a stolen German FW 190 from behind enemy lines to safety. These gentlemen are the real deal to say the least, and shaking their hands really meant something special.
Anyway, if your getting bored of all the run-of-the-mill car shows, or just want to soak in some new inspiration- Add the Reno Air Races to your bucket list. You won't regret it.
Please enjoy the pics…
57

Comments on the H.A.M.B.