Bonneville… Part 1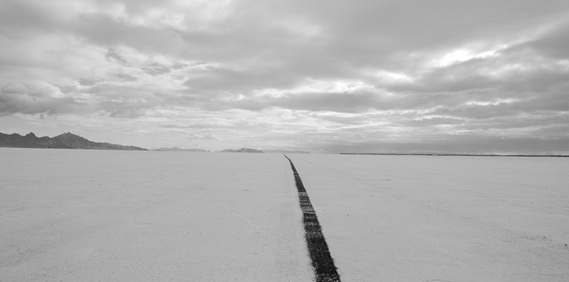 I've always known that I was lacking culture. I mean, I've done a lot of racing in my life and I've done so from the grass roots level all the way up to the big time. BUT, I had never been to Bonneville until this past weekend. The experience changed everything. I know you've probably heard that from other folks before, but there is nothing cliche about it. Bonneville is a spiritual exchange between man and machine that I never knew was possible. It's heaven… on earth… Stepping foot on the salt for the first time induces flashbacks to our history as well as dreams pointing to possibilities for the future. It's a new world for me.
And it's a world that I am just not ready to write about yet. Joyo and I experienced so much in such a short period of time that it all hasn't really sunk in yet. We've both been walking around in a sort of daze. There is no salt in Austin. There is no blazing sun. There is no roar of high sprung race motors to talk over. I haven't figured out how to get along without all of that stuff just yet.
Part 2 of this story will run on Friday… By then, I hope to have my wits about me and be able to tell the story as we lived it. I won't be able to do it justice. Promise.
60

Comments on the H.A.M.B.