Lost & Found: Time Capsule Three-Window
Sometime this spring, I woke up to a text from Dean from DicE Magazine. I checked the time and checked my surroundings: it was still early on the West Coast, and the morning light had already started making its way into my room. I hopped out of bed and slid over to the living room couch. Next thing I knew, I was on a fast-paced FaceTime with Dean.
From his mid-century travel trailer-turned-magazine office in Charlotte, North Carolina, he jumped right in. Survivor Deuce three-window. Chopped. Heavy channel. Midwestern roots. Tucked away for decades. The best part? It was practically in his backyard.
Dean's no stranger to unearthing survivor hot rods. But this one was different. It wasn't for sale, and nobody thought it would ever be. Well, through a series of twists and turns, ups, downs and in-betweens, Dean's the coupe's new caretaker. I couldn't be more excited for him.
Usually, I like to write these kinds of things myself. But Dean's a good friend of mine, and his enthusiasm for this particular three-window—and hot rods in general—is unmatched. I know for a fact that this is the car that has kept him up long after the world has gone to sleep. He's been studying, researching and digging through every archive he can find. He's committed, and there's no doubt in my mind that he was destined to get this coupe.
This car has soul—lots of it—and it has a story to tell. And so, with that, we'll let Dean kick things off. Let the next chapter begin.
—J.U.
Deuce Coupe in the Queen City
This story starts in 2008 for me. I had just read the book Cobra in the Barn by Tom Cotter. The story that really grabbed my attention and got my heart racing was about a chopped and channeled Deuce three-window that was found in Ohio. We're talking Andy Kassa low…with an Olds motor…and all the goodies.
Fast forward to March of this year and I'm at cars and coffee just north of where I live in Charlotte. Lo and behold, I meet the author of the book! I instantly questioned him about the coupe and he tells me it's in Charlotte—15 minutes from my house to be exact and the widow still has it! MIND BLOWN. Tom was nice enough to give me the telephone number. To cut a long story short: after six months of sweet talking, the coupe is mine!
Here's what I know so far…
The car was believed to be built by Wayne Knudson in Toledo, Ohio, in the mid-to-late 1950s. There is also some talk about the possibility of Bill Hines doing the chop, body molding delete, and molded rear fenders. The metalwork is next level; it's definitely not a backyard build. It was purchased in the 1960s by Warren Bookman of War-Book Enterprises, who was also responsible for the Toledo Auto-Rama. The black and white photo shows Warren kneeling next to the car with the 1964 Auto-Rama painted on the door.
Then, at some point, it was sold to Gary Mohr in Swanton, Ohio. He then sold it to John Gray in Delta, Ohio, on August 6, 1971, which is when I believe it was last on the road.
The car was then purchased in 1997 by William "Billy" Coates of Charlotte, North Carolina, who is a legend in his own right.
He built a chopped and channeled Model A roadster as a teenager in the 1950s that was also Oldsmobile powered and it won a lot of races. He continued to build and race vintage cars his entire life, and he passed away on November 1, 2011.
He started to strip the paint and update a few things on the '32 while he owned it, but luckily didn't get too far with the revamp.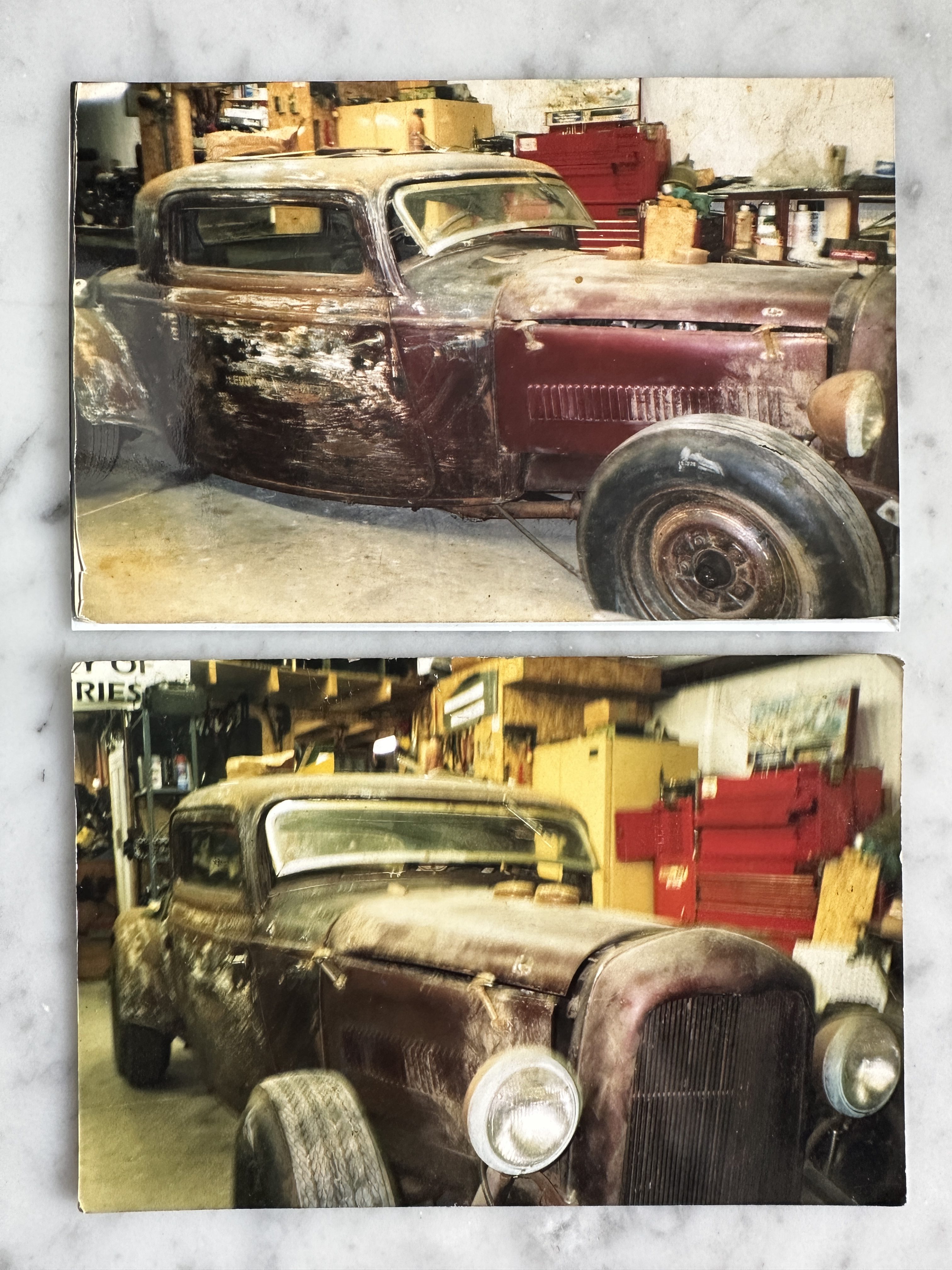 This car hasn't seen the road since the early-1970s, and my plan is to put it back to how it looked in the black and white photo.
Thanks to my friend Joe Koenigsmark, Mark Mazur and Kevin Roberts for the info and black and white photo of the car. Special thanks to my good friend Zach Hindes for helping me dig the car out and rescue it.
Last but not least, this find is dedicated to my friend, Pat Ganahl. He would have loved this car and the story of how it was found.
—Dean Micetich
If you have any pictures, stories or other information about this three-window, post it here or feel free to reach out to me or Dean. We would love to hear from you!
38

Comments on the H.A.M.B.